Fearless Football Predictions Results
Posted: 2007-11-29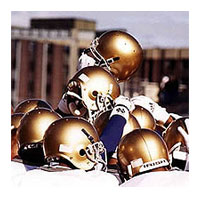 Here it is! The results of the first annual fearless football predictions contest. Who won the coveted first place prize in 2007?

Read the original challenge and collection of predictions.

The Irish had a bad season. Just awful. Final record was 3 - 9. That includes a surprise win against UCLA who had to play their third string quarterback. Lost to Navy for the first time in a zillion years. Couldn't score points. Set all time worst records on offense and overall.

Let's go through the predictions one-by-one and then announce the winner.


---

Fox predicted a final record of 7 - 5. Not so good. Also predicted that Gabes is calling for the coach's butt by the third game. That was off by two games.


---

Mags predicted 8-4, including a loss to UCLA. Not so good. He was looking smart, however, after the first three games when he had us 1 -2 which was close to the 0 - 3 actual record.


---

Albert predicted 7 - 4. He didn't even have the number of games right. Not so good. He is right on the money, however, when he says "Gabes calls for Kevin White's head on a platter, and Fatso's ass on a spit. John A touts the success of the ladies lacrosse team as a sign of progress."


---

Gabes made lots of predictions. Its hard to sift through everything he wrote. Here are some snippets.
Sports Illustrated predict a 7-5 overall record ... that might be tough to get.
Only sure wins then appear to be Stanford #98, Duke #100 and Army #112.
Let's say we're no worse than 3-9. Toss in a couple of squeakers and we've got 5-7 probably covered.
I think we'll win 5, and maybe 6 or 7, but that will be it.
Not sure we'll be good enough to beat a Texas Tech in a bowl either.
An opening loss to Georgia Tech could lead to an 0-8 start.
Let's hope they win that Georgia Tech game and it sparks them to 8-4 or better.
This has the potential for being a very long year if the first game is ugly.
---

Hans predicted that "ND Football 2007 will be interesting to watch." He had us at 8 - 4 when he got more specific. He also says "I look for a lot of true freshman to get a lot of playing time" and he was right about that.


---

Andy predicted a National Championship. But then, he traded Tiger at about the same time, didn't he? I hope the Muscatel was good.


---

Prep didn't do too bad. Let's bullet point it:
6 - 6
losing to Southern Cal by more than 27 points
Clausen will be the starting QB by the 5th game of the season
CW will lose 4 pounds
---

Sobo predicted something between 7-5 and 9-3. And a "convincing win in a non-BCS bowl". Well, at least we won't lose a bowl game this year.


---

Jack has us at 8-4 with a Gator Bowl win. Not too good.


---

Billy made so many strange predictions I can't sort them out this morning. I think his bottom line is 9 - 3 plus a bowl win. Hmmm .. nope, not good.


---

DD's "best guess" is 8-4.

His other prediction is that D. Jones sees some "situational action". Of course he didn't say where or what kind of situation.


---

TMAC predicts 9 - 3. With his "fingers crossed". Should have crossed his toes also.


---

John limped in late with "7-5 and win a fa-ca-ca bowl game. Horray!" I could poke fun at how bad some of his specific predictions were (JC will not start a game) but at least he stuck his neck out so I'll let it go.


---

And the winner? Nobody really foresaw the disaster that happened. Makes sense of course - we're all rooting for W's. The only two in the running are Prep and Gabes. Prep should get some credit for making a specific prediction: 6 - 6. Of those who laid it on the line like that he was the closest. Gabes predicted all kinds of stuff but for the most part he was the only one who said the season COULD be a nightmare. At first I didn't want to give him credit for that prediction because he tied it to the team's performance in the opener - but then I saw that in my "rules" I said you could tie your prediction to how the opener turned out. Gabes was the only one of us who did that .. but he was right on. So ...

The winner is Gabes. Congratulations.

The big prize is everyone who participated has to buy you a beer the next time they see you.

The End!