Fearless Football Predictions
Posted: 2007-09-01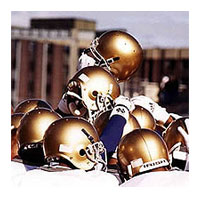 Here they are! Each of these fearless predictions was made before the 2007 season started. Who will win the coveted first place prize?

The original challenge:

Here ye here ye, one and all.

Announcing Fox's 1st annual ND season prediction contest. If you wonder what season then you are not allowed to enter.

Are you man enough to enter? .. confident in your prognostication prowess? .. not scared to go up against the preseason favorite from Texas?

Please send, by this Friday night, a single paragraph of no more than 300 words [some ignored this] with your prediction for the upcoming season. I'll post them for all to admire early on Saturday morning.

Other than the word limit there are no restrictions. So you can go ahead and base your overall predictions on the outcome of the GT game or the health of a certain player or on how much we run vs pass or whatever if that's what floats your boat.

And no, do NOT copy the stuff that Gabes and Sobo and whoever else in the world has already predicted. Make your own prediction.

Come the end of the season a set of impartial judges will evaluate all the entries based on a weighted scale that includes entertainment value ("CW will clear the bench by the third game just so he can sit down"), accuracy ("they will lose badly to Penn State, lose a squeaker to USC, and win the rest of the games by an average of 4 points"), grammar and spelling ([not] "season be it good and vary happy winnings"), boldness ([not] "they will win every game in which they score more points than the other team") and just how all around good they are or should I say were. The winner will get a really amazing, yet so far undetermined, prize and will be featured on CyberZahm News!

Thanks.

Fox


---

OK, I started this sort of. I don't know Jack shit about ND football. I just watch it. I root for the Irish. Here are my uneducated predictions.

Final record: 7 - 5

Gabes is calling for the coach's butt by the third game.

Three of our losses are very close. Close enough where you can point to one or two plays that would have changed the outcome if they had gone differently. Some people will look at this and say "not a bad season, we almost went 10 - 2". Others will call for the CW's butt on a platter. A large platter.

Fox


---

Fox,

Ok, here's my prediction:

8-4 for the season, as follows:

Sep 1 Georgia Tech L
Sep 8 @Penn St. W
Sep 15 @Michigan L
Sep 22 Michigan St. W
Sep 29 @Purdue W
Oct 6 @UCLA L
Oct 13 Boston College W
Oct 20 Southern Cal. L
Nov 3 Navy W
Nov 10 Air Force W
Nov 17 Duke W
Nov 24 @Stanford W


Mags


---

ND prediction:

Season will get off to an uneven start... A spirited win against GT! Gabes says this sets us up for a solid season... We'll see. We lose a heartbreaker at PSU, and feel some confidence going into Ann Arbor... But MU crushes us. 1-2. We beat MSU at Home... And split the two road games at Purdue and UCLA. 3-3. (That's critical, BTW) We beat BC... Finally! But get crushed by USC. 4-4. Navy almost snaps their losing streak, sneaking up on us after the USC let down, but ND prevails in avery close game. Air Force is a little easier... Duke a lot easier... And Stanford is another pushover.

7-4... Not terrible... But it seems SO MUCH worse because the last 4 wins are meaningless. We go to a meaningless bowl, and once again get beaten and extend our record Bowl losing streak.

Gabes calls for Kevin White's head on a platter, and Fatso's ass on a spit. John A touts the success of the ladies lacrosse team as a sign of progress. And Brady Quinn leads the moribund Browns to the playoffs.

Albert


---

Sobo,

Just saw Sports Illustrated and their predictions for this year. They have ND ranked 42nd preseason. They predict a 7-5 overall record, but seven teams we play are ranked ahead of ND preseason (USC #1, Michigan #6, Penn State #14, BC #21, UCLA #22, Ga. Tech #27, and Purdue #36). That 7-5 record might be tough to get. I don't see any way we beat USC, Michigan or Penn State. BC always gives us fits, even when we have an experienced team. Beating UCLA at UCLA will be tough. The Georgia Tech game is at home, but they have a bill to pay and something tells me that will be a tough game, too. We play Purdue on their field. Then there's the always tough to win Michigan State game (ranked #72). Hell, Navy's preseason rank is 50th, and SI predicts them to finish 8-4. WOW! Only sure wins then appear to be Stanford #98, Duke #100 and Army #112. So let's say we're no worse than 3-9. Toss in a couple or squeakers and we've got 5-7 probably covered. You gonna be happy with that?

On a good note, SI sees us going to the Independence Bowl in Shreveport, LA on December 30th vs. Texas Tech. That might not be so good either, though. Texas Tech's preseason rank is #34. Oh boy, will the bowl loss streak continue?

Gabes

...

John,

I don't think many in ND nation will be happy if we only go 1-11, no matter who the one win is against. I think we'll win 5, and maybe 6 or 7, but that will be it. Not sure we'll be good enough to beat a Texas Tech in a bowl either. That would continue that miserable bowl loss streak, too.

I think the key game is Georgia Tech. If we can win that opener against a decent team, then some good things could happen. If we lose that game though, then for sure you pencil in losses at Penn State and Michigan on the road. Then you have to come home 0-3 and play the always tough to beat Spartans. If you can't win that one, then you have to go on the road again and beat Purdue and UCLA. Then you get BC and USC at home. A win in that first game could provide a spark. A loss could lead to an 0-8 start. The Fat Man won't be very popular if that happens. Sobo will even be complaining.

Gabes

...

Sobo,

As I've said many times, I'll bet on almost anything but I won't bet on Notre Dame. I want them to go 12-0 every year. I do, really. I don't want them to go 5-7, and would never make a bet on them doing so. I'm just trying to be realistic about the possibilites and I am writing accordingly. Let's hope they win that Georgia Tech game and it sparks them to 8-4 or better, but let's be realistic about the possibilities if they lose that opener and start 0-3. This has the potential for being a very long year if the first game is ugly.

Gabes


---

ND Football 2007 will be interesting to watch. Note, I did not say we would necessarily win as many games as I would like - too many new faces, especially in key positions. We will lose to Georgia Tech, lose to Joe PA, upset Michigan, beat MSU and Purdue, lose to UCLA, beat BC, lose to USC and win the rest. The fact that Weis hasn't announced a QB tells me that no one has stepped up, rather than all three are equal. The defense sucked last year but will rebound under the new system. I look for a lot of true freshman to get a lot of playing time, and for the first time in a long time, we will have one or two burners to open up the game.

We then go to the Gator Bowl and beat UVA. The Irish tend to play better as the underdog, and we'll have plenty of opportunity in that roll in 2007.

GO Irish!!

Hans


---

Fox,

I think that ND will go undefeated and win the National Championship in a rout over LSU.

I do believe, I do believe, I do believe.

Andy


---

Fox:

The Irish will finish 6-6, losing to Southern Cal by more than 27 points. Clausen will be the starting QB by the 5th game of the season and he will start in all but 1 game after that. CW will lose 4 pounds during the season.

I'm sure of every prediction but the last one.

Prep


---

Fox-

The Bottom Line

I expect an 8-4 season (+/- one game), and a convincing win in a non-BCS bowl. Anything less than 7-5 will be a complete disappointment, and CW and staff will deserve all the grief they get. Anything better than 9-3 he should be canonized.

What to Hope for

The team grows up and improves significantly during the year. We should end the year with four W's, and play a non-BCS team ranked in the 20's. With a year of playing together, we should be a dangerous team to play on New Year's. A win there and we'll be in the BCS hunt in 2008.

Some Random Thoughts

- The strength of this team needs to be our offensive line and team defense. If we can run the ball we'll shorten the game and keep the other team's O on the bench. I'd like our chances of winning any game we keep the opposition below 20 points, with the exception of U$C. They're loaded.

- Whomever starts at QB will be eased into the flow. CW will tailor the O to his particular skills, and just look for him the play smart, not win the game on his own. If healthy, I expect Clausen to take over some time during the year.

- The biggest question mark is not QB, but kicking. Sounds like we're counting on a true FR or a walk-on for kickoffs, FGs and PATs. That's high risk when you expect a number of close games, which I do.

- Expect the unexpected, both good and bad, but realize how young and talented this team is. They will get better, and should be the nucleus of a perennial BCS team in the future.

- Breakout Freshmen: Kerry Neal, Armando Allen, Robert Hughes

Sobo


---

OK Fox, you asked for it.

The young Irish will open with a win at home versus the Ramblin' Wreck and then lose consecutive games on the road at Michigan and Penn State. Michigan State at home and Purdue on the road will be crucuial contests if we are to have a good versus mediocre season. We then go to UCLA , shortly after the Pussjackers have captured the Rotobaseball crown by overtaking the Mazin's and lose a tough game. Going into the USC game in South Bend, we are 3-3. We after beating Boston College, we lose to USC decisively and then run the table finishing the season at 8-4.

We go to the Gator Bowl and win. Offense improves throughout the year with Claussen emerging as the starter after USC. Defensive 3-4 scheme proves to match our talent better and CW finishes the season at the same weight from the start.

Jack


---

Fox,

Since you got down on your knees and begged, here is my take on the season. 300 words or less, you have to be kidding, I, like many writers before me want to be paid by the word, but here goes….

Game time—GT. CW still won't name a starting QB. ES wins "rock, paper, scissors" contest against DJ, JC, and Zahm's own DD at midfield during the National Anthem. Gabes drops first of many "F" bombs, losing bet to Sobo on starting QB. Willo, pub-crawling in merry old England, knows the final score, being 6 hours ahead of us. He lays five large on an ND win.

DD, disconsolate at not starting, sues cuz Kevin for breach of contract, and goes fishing. Vows to hold next LaDolce DaVita only after KW is fired. After hearing DD isn't starting, Ikey OD's on blended scotch and cheap cigars. Mags performs CPR. TMac sues DD for being "childish." First incomplete pass, cameras pan to JC, pickled on the bench.

We beat PSU and MSU, but lose in the dollhouse on a bogus PI call. We drop a stinker at PU, Gabes drops cluster "F" bombs in retaliation. Andy hangs "cuz" KW in effigy for scheduling too many little 11 teams. CW still withholding starting QB's identity from the media. UCLA cheerleaders distract Corwin; ND's "D" muff dives in the second half. Gabes drops more "F" bombs. Al, Prep, and Hans are found on the links, discussing the merits of the interlocking versus the overlapping grip when performing self-abuse, call goes in to Spotted Owl Agosta for advice.

BC gets bashed.

ES sprains an ankle in warm-ups, JC becomes surprise starter against u$c, trojans spring a leak, we shoot the Fxxxing white horse. ND sinks Navy, strafes the AFA, dukes the devils, and axes the trees. CW finally reveals starting QB—Bob Devlin!

Fox wins his own pool, Curly and I limit out on doves again. ND flushes FSU in Tidy Bowl. Gabes drops last "F" bomb, still wants to fire fatso.

Final 10-3.


---

Fox,

We'll split the first eight, then win the last four to finish 8-4. Against GT we'll struggle in the first half, then get ourselves together in the second half to win by 4. We lose to SC and Michigan. Those are my best guesses.

Oh, yea, Evan Sharply starts at qb, with D. Jones seeing some situational action. Another best guess.

D.D.


---

Fox--

Here's my prediction for this year. No wisecracks, just hunches, and fingers crossed.

9/1 GEORGIA TECH 2:30 (W)
9/8 @ Penn State 5:00 (W)
9/15 @ Michigan 2:30 (L)
9/22 MICHIGAN ST. 2:30 (W)
9/29 @ Purdue TBD (W)
10/6 @ UCLA 7:00 (L)
10/13 BC 2:30 (W)
10/20 SOUTHERN CAL 2:30 (L)
11/3 NAVY 2:30 (W)
11/10 AIR FORCE 2:30 (W)
11/17 DUKE 2:30 (W)
11/24 @ Stanford (W)


--TMac


---

Fox...

Sorry this is late... Busy week...

Terry's observation this morning of my "ball-less" status moved me to act. You will have to take my word for it that in putting these predictions together that I did NOT first view the site to see what others wrote. I guess as you read my predictions you will see that I obviously hadnt.

MY PREDICTIONS...

This is really a simple season to predict. There is little to wonder about. The Irish are not very good, but they are pretty good so they will win some and lose some. They will finish 7-5 and win a fa-ca-ca bowl game. Horray! Unless we play Oregon State. The Beavers like playing Notre Dame. Overall, ND will be exciting, even in their losses because they are a program on the rise.... a nice contrast to the 15 years before Charlie. See? Simple.

My first and surest prediction is that Sobo will be mostly right about the team and Gabes will be mostly wrong, though he will shout the loudest about the sky falling. I also see him catching a 24 pound salmon this Fall.

The Irish will start by beating Georgia Tech in a close game... say 21-17 with Jones starting. We will not not beat MSU or Purdue by big margins, and could lose these games, but won't. Losees will be to Michigan, Penn State, UCLA, Boston College (ick), and USC. Michigan and USC will be ugly. See? It's easy. These teams are just better than us.

Claussen will throw the ball more than 20 yards and will get time as the year moves along. But he wont ever start this year.

The End!