LMS XVII: Week 10 - When the Gales of November Come Early
Posted: 2010-11-12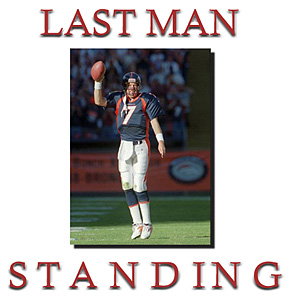 And still this dangerous journey continues. Decision points are locked in place, frozen like cross country runners caught in the headlights. The surviving cages sail on as steadily as the good ship Carnival Splendor, even as Erskine ...

...Bowles and Alan Simpson stretch their dreams further and further into the boundless land of never, like the plume from some errant missile arcing high across the reach of their caged landscape into today's dreams and tomorrow's promises.

November's grey skies continue their slow turn to gloomy as the animals sail deeper and deeper into their quest for the legendary Football Genius status that has lived in LMS lore since THE ZOOKEEPER first bartered for that small tract of land DOWN BY THE RIVER from the Chippewa. Trading little more than an autographed photo of Randy Quaid and a load of Muscatel brought back from some Gin Mill in Wisconsin, he began loading and cleaning cages seventeen years ago and hasn't stopped since. He has seen the witch come stealing in November.

Some of the newer cage occupants believe that communication advances have made the sudden surprise of catastrophic storms and rogue game upsets archaic and obsolete. GPS Systems, Advanced Cell Phones with Internet Connectivity, Digital Satellite Communications, Twitter and Face Book messages from Ochocinco, and Mike and Mike in the Morning guidance will steer your ship through all stormy seas - or so they claim. But the older cages have seen and remember. They remember a time when it was more than 26 thousand tons of iron ore that they witnessed plunge into the abyss of second place. Lots of Giants and Bucs are on board this week (90%), all seeking more than the shelter of Whitefish Bay. Ask Joe Morgan and John Miller or those who saved the Patriots into WEEK NINE against the Browns what they think about one ugly way to end a quest.

Time now for this week's numbers:

5828 OUT, 11 DQ'D, 966 IN. 609 BUCS, 257 NEW YORK FOOTBALL GIANTS, 45 COLTS, 18 49ERS, 9 CARDINALS, 9 EGGLES, 8 BILLS (I swear I don't make this stuff up), 7 J-E-T-S JETS JETS JETS, 2 MIGHTY MIGHTY STEELERS, and two lone wolf selections, 1 JAGGYWIRE, 1 TITAN.

PICK OF THE WEEK HONORS goes to BONOBOALLSTARS taking the slight road favorite Titans in Miami. Close second is the alphabetically challenged AAMM with the slight home favorite Jaguars over Houston. Not even mentioned here are the 8 Bills who thought for sure they'd get to see their names in this week's report. Nope. Now how dumb do you feel?

That's all for this week. The NFL starts its Thursday night schedules, so be sure to get your picks in early. Tuesday works. Hug a Veteran and say thanks. The Irish are back in action against the soon to be troubled Utes. R.I.P. Frieda Schmidt. We hardly knew ye. Peace. Out.