Sobo's Analysis After Two Important Victories
Posted: 2010-10-11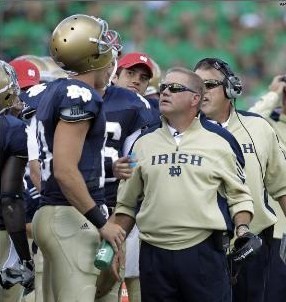 Nice to finally win a game like we did Saturday. We could have easily have lost it- and likely would have if this was last year's team- but this team is learning how to win instead of making excuses. Some random thoughts ...


Armando Allen is a MAN. He must have half of his yards after initial contact. Hits the hole hard, and has a burst we didn't see last year. If he keeps it up he'll have a chance to play on Sunday.
Kyle Rudolph needs a break. He's not the same guy he was against Michigan. I'd let him sit until Utah if that's what it takes to get him healthy. [a few days later it was announced that KR was injured and out for the year.]
O line has played pretty good, and did OK against Pitt even with a new starter - Romine - and Martin moved over to RT. And kudos for the lack of penalties compared to the last few years.
Give Crist time. His numbers compare very favorably to Clausen, Quinn, etc in their SECOND year starting, despite coming off an ACL and trying to learn a completely new system. If the learning continues we could be dangerous for the last three games.
LOVE the direction of the defense. For the first time in years, when we hit someone they go DOWN, not falling ahead for three yards. And they seem to play better the longer the game goes on, likely a testament to the new S&C coach and the tempo of practice.
Ian Williams is making himself some serious coin at NT. Not only is he clogging the middle, but gets 1-2 tackles a game by himself. Could be our MVP on defense.
We all love Te'o, but Carlo Calabrese is a throwback. He is one mean sumbitch. With the two of them around for two more years our ILBs will be a force.
How about David Ruffner? Four scholarship kickers on the roster and a walk-on breaks the record to consecutive FGs by nailing a 50-yarder that would have been good from 60. Too bad for Siegfried, and our opponents.
If the Irish can hold their recruiting class together it will be top 5 for sure, and a chance to go higher if they get a couple of the late commits. No QB and one K hurts their overall ranking, but some SERIOUS speed on the defensive front seven. Keep your fingers crossed.
I said two weeks ago the Irish were at a crossroads. Fortunately they stepped up, won 2 potentially tough games, and are in a position to be 6-3 heading into Utah, Army, and U$C. Plus, they can heal up a bit, give some of the younger guys some PT (hopefully) so they gain some experience and sharpen things up for the stretch run. Let's just hope we get through the next three healthy.
Go Irish!