Foxes Win Roto Golf! Smoothies Clean Up
Posted: 2010-10-12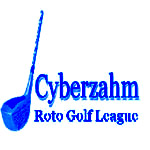 Gabes' Final Reports: Congrats to the lucky, dumb Bleeper (Fox) for taking first place. He's been sitting on the throne for most of the past several months, and he gets to sit on it until ...

... the 2011 season kicks off in January. Jack's Smoothies take second place, with Al's Balls in third, Mags' Washers in fourth, and Hans' Holes dropping all the way to the final money spot on the last weekend. My Skins finish in the cellar.

Another Roto Golf season comes to a close, and this one finds something quite rare. Just three guys ended up in the black at the conclusion of the 2010 season. As you know, there are many different ways to win (or lose) money during our season. You can really clean up if you do well in all of them, and only one guy managed to do that this year. Fox takes home first place honors, but it was second place Jack who won the most money. Fox takes home $306.69. Three unclaimed Grand Slam Skins helped increase the first through fifth place payouts, but Fox's Phuckers did lousy in weekly skins and sub par in the Majors Side Bets, and the cheap bleeper was afraid to wager much on his team back in January, so his net winnings were lower than they could have been. Jack, on the other hand, takes home $404.95, almost $100 more than the lucky, cheap, dumb bleeper. Jack did well across the board, especially in the Majors Side Bets. The only other guy to make money was fourth place finisher, Mags. Mags tied for most weekly skins (6) with my ForeSkins, and taking home the low team score bet (26) added $70 to his side bet total. Mags takes home $19.55, plus two quality cigars from Jack and me on a side bet.

Everyone else was a loser. Third place Al finished in the red at minus 32 cents. I think this is the first time that the third place finisher lost money. Al can attribute that to doing poorly in weekly skins, and absolutely sucking hind tit in his Majors Side Bets pools. At least he had the privilege of having Martin Kaymer on his team for the Fed Ex Cup Playoffs. Hans finished in the final money payoff spot, but he lost $124.20 primarily because his team was lousy in weekly skins, side bets, and the Majors Side Bets. His losses would have been even worse had it not been for the one Grand Slam Skin that he got when Lefty won The Masters. Sobo's Seekers finished in sixth place, but they actually lost less than Hans' team because Sobo cleaned up in the Majors Side Bets. Sobo loses $42.60. Tiger may have done well with hookers this past year, but Andy's Tiger-led Hookers didn't turn many tricks this season. Andy loses $192.47. His losses would have been even worse if not for a decent showing in the Majors Side Bets. As for my ForeSkins, they pretty much sucked all year in everything but weekly skins. I throw the party and lose $371.60.

Roto Golf BLOWS!