Notre Dame Handled Easily by Stanford
Posted: 2010-09-26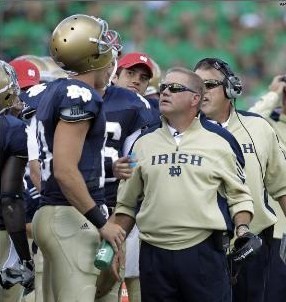 Notre Dame Football Blows! BLOWS! Another pounding at home, and Stanford beat the shit out of our players physically, too. Jim Harbaugh is an outstanding coach. He's got Stanford playing top notch, tough football these days. You can see why he had no interest in coming to South Bend. Why go to Notre Dame when you can beat the shit out of them? ...

...Maybe Kelly will get us to the same point in his fourth year, but we have miles, FUCKING MILES, to go to be mentioned in the same breath with the top 25 teams in the country. We aren't even close at this point. Anyone who thinks differently on that point is delusional. Our one stinkin' win, Purdue, got beat by Toledo today by 11 points, and at Purdue. Fucking Toledo! What does that say about the Irish after four games? Sad. Very sad!

Gabes


******************************************************************


Gabes.... For YEARS you have tooted this tired tune about how the talent is generally there... Ara could turn it around in a year or two. It was all about shitty coaching. Are you prepared now to agree that our guys play hard but are outmanned?

Today it was obvious that Stanford is bigger, stronger and faster than Notre Dame. I mean, was it just me? They just LOOKED bigger and faster I think we were all surprised to see the Irish offense stuffed. When Kelly says that the Irish have a lot of work to do, I think he's means that he has to recruit really well for a few years. He needs faster & bigger guys.

Btw. HOW ABOUT THE PAC 10? Stanford looked great. Arizona whomped Iowa last week. Arizona State should have beat Wisconsin. UCLA destroyed Texas. Wow.

Go DUCKS!

J


******************************************************************


Maybe you are right, Johnny Boy. Something is wrong. ND still gets their share of four and five star players, but for whatever reasons, many of them never seemed to have developed over the last almost 20 years, at least as far as being part of a solid ND team. I still think Kelly is better than Fatso, Mouse and Boobie, but it is clearly obvious that we have MILES to go. Stanford beat the shit out of us physically today. It seemed like almost every series one of our players was laying on the field or limping off of it. I still have hopes that things can turn around. Hey, if Stanford can get those kinds of players with their tough academic standards, then why can't ND? Maybe it will take Kelly four years like it took Harbaugh, but after watching today's game, there is an enormous amount of work to be done. We aren't bleeping close!

Gabes


******************************************************************


"looking at the schedule and the state of all teams that we play, it wouldn't surprise me at all if ND goes 9-3 or 10-2 in Kelly's first year, and even better could be possible with some luck!"
... Gabes Sept 1

"we have miles, FUCKING MILES, to go to be mentioned in the same breath with the top 25 teams in the country. We aren't even close at this point. Anyone who thinks differently on that point is delusional."
... Gabes Sept 25

Fox


******************************************************************


I was under the influence of that nasty troublemaker, Jack Daniels, when I wrote that on September 1st. I was sober as Preppy when I wrote my comments today. If we don't improve dramatically, and very soon, 6-6 or worse is very possible again this year. ND Football BLOWS!

Gabes


******************************************************************


Go back to the Jack, Jack. We do NOT get our share of the 5 star (1-2/year, if lucky) players. Mostly 3s (mostly) and 4s. Be patient. You're obviously an instant gratification guy. That's okay. We all want to win now, as well. But we clearly don't have the horses. I don't care what Coach Kelly sez...I do not believe that DC is a great fit for this offense. He's a pro style drop back passer in a spread offense. Incredibly erratic today. Pig wearing lipstick (Where have I heard that? Oh yeah...) No touch (all year). Zippo running game today. Can't stop traffic on 3rd down (for over a decade, I might add...). Inconsistent tackling. Just shoot me...

Stanford is good, but not great. Can't wait to pay back Harbaugh. He hates us. FG with less than 2 min to go with a 20 point lead. Very classy. His quote: "Win with class and cruelty." Yeah, that computes...TE


******************************************************************


Patience is something I've run real short of, Ike. ND continues to be everyone's red-headed step child (no offense to Fox, of course). Take a look at these stats to see how much everyone is kicking the ND jack ass these days:
The Fighting Irish have lost 11 straight games vs. opponents ranked in the AP Top 25 and five straight at home. The last time Notre Dame beat a ranked team was Sept. 9, 2006 when it beat No. 19 Penn State 41-17 in South Bend.
At 1-3, Notre Dame is off to its worst start since 2007 when it began 0-5.
Stanford has beaten Notre Dame two times in a row for the first time in the history of the series.
Laughingstock, and for almost 20 fucking years! It's been so long that ND followers have no right to even claim that they have a legitimate top 25 program. We don't! It's a joke to think otherwise, and teams have been pissing all over historic Notre Dame Stadium for years. We are a joke!
Gabes

******************************************************************

That was a great win we had over Penn State. Wasn't it?
Andy

******************************************************************

Gabes:
The Hulk Hogan-King Kong Bundy match ( Wrestlemania III ) had more imagination than our offense, and historic Notre Dame Stadium has become a neutral site. Ikey, B-G Illustrated has repeatedly praised the talent Coach Kelly received-like Crist, one of the very top quarterbacks in the country. This sounds like Deja Vu all over again. Who fell down this week? Did the play clock run out again? We got bad calls. Now a talent void? Didn't Ara inherit a 2-7 team? He never whined about talent, and neither should anyone else.
And now the cause of all this is the evil Jim Harbaugh, who kicked a field goal. If he went for the first down and made it , and then scored, then what? What do you expect, take a knee? We were totally dominated, and not by Stanford's best football. Coaching? An offense without a fake in the playbook, and our team is trapped in it.
JoeyO
An admitted nonexpert

******************************************************************

Disagree of the talent side of things, especially vs. Stanford. As a team, ND has out recruited Stanford for years, with the possible exception of Mouse's last year, when he didn't out-recruit Cincy Moeller. Most analysts acknowledged ND had better talent but Stanford had a better TEAM. And that's what counts. They were better prepared, better motivated, and better coached. Against Michigan and Michigan State we could all make the case we "should have" won, but had a bad break, a bad call or two, or something.
From the first quarter against Stanford it was obvious we were in trouble. They just lined up and beat the shit out of us. Reminded me of the line in Billy Jack, where he told the crooked cop "I'm gonna take my right foot and kick you right in the nose and there is nothing you can do about it".
That's the way Stanford played offense, along with some great imagination in running in extra linemen as RB's on short yardage. And their defense totally confused Crist, which means BK wasn't ready for what they could do.
We'll be dogs against BC, and a 1-4 team coming home to Pitt will be exhausted mentally and physically. 7-5 is the best we can realistically hope for, and that says we win three against BC, Pitt, Navy, Utah, and U$C. It also assumes we beat Armey, Tulsa, and Western Michigan. I don't like those odds.
BTW, the Chiefs are 2-0 with Charlie as their OC. Maybe it wasn't all his fault after all.....
Sobo