LMS XVII: Week 3 - Shine on Harvest Moon
Posted: 2010-09-23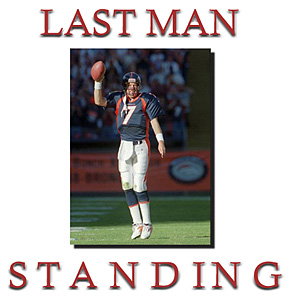 Jupiter's continued close encounter with planet earth has kept THE ZOOKEEPER'S alien monitoring systems on full alert. With his Bausch and Lomb Galilean binoculars and a jug of Muscatel as his companion, he was seen long into the early morning hours this week, watching the night sky for Jupiteranean animals hoping to spice up their otherwise monotonous existence through entry into this thing of ours, THE WORLD'S GREATEST FOOTBALL POOL...

...(Earlier reports on his late evening activities were erroneous. It was simply an unfortunate misunderstanding that the Sherriff's office had to investigate the complaint of a Peeping Tom from the widow living down the road from the VAN.) Sadly, no Jupiteranenans have emailed a pick yet. To date, this pool remains limited to you earthbound animals.

Here on this planet, cages from thirteen different Nations have reported in this year, as THE ZOOKEEPER continues his one man effort to eradicate world poverty one season at a time. Shining brightly over all the animals (and, by extension, those Chilean miners), September's Harvest Moon now lights the path to this week's promised land for all the would be Football Geniuses. In some cultures, when a person's birthday anniversary falls on a Harvest Moon, that person is expected to provide a feast for the rest of his/her community. Here in the LMS World, in the week prior to the Harvest Moon's appearance, it is considered bad luck to pick the Cowboys. Of course, many say that is just a silly superstition.

Not since the Volstead Act was passed has THE ZOOKEEPER heard such whining and crying from the cages as resulted from the Bears taking down those Cowboy bastards, dashing the hopes and dreams of oh so many animals, once again, in unkind early fashion. Looks like the recession won't be over all that soon for at least 2,507 of you. Now that you'll have some free time, perhaps you can apply for Larry Summers' old job or design creative deli fashions for Lady Gaga. Send a birthday card to Walter Breuning or let Jimmy Carter know how much you miss him. The rest of you will have to buckle up for yet another ride. Put your red gimp suit on and get your Ray Lewis game day dance ready. No cross site scripting here. Twitter these numbers to your peeps:

2507 OUT. 4298 IN. 2448 PATRIOTS, 1181 RAVENS, 385 VIKINGS, 95 NATIVE AMERICANS, 50 BENGALS, 22 COLTS, 21 LIGHTNING BOLTS, 18 CARDINALS, 17 EAGLES, 12 49ERS, 9 SAINTS, 8 MIGHTY MIGHTY STEELERS, 8 NEW YORK FOOTBALL GIANTS, 7 TEXANS, 4 DOLPHINS, 4 CHEFS, 2 BUCS, 2 RAYDAHS, 2 J-E-T-S JETS JETS JETS, 2 PACKERS (from the frozen tundra of Lambeau Field), and one lone wolf COWBOY (bastard!).

PICK OF THE WEEK HONORS goes to that one fearless animal, HUDSON, riding the Cowboys. Why take an 0-2 three point road dog? We won't ask and you don't have to tell, HUDSON. Chalk it up to teenage witchcraft if you must, but just win, baby, win.

********NOTE BENE******** MOST of the animals did a good job of getting into their cages on time this week. Keep up the good work. SOME have not sent in their animal feed yet. Please do so now. Muscatel reorder is soon due and THE ZOOKEEPER has powerful binoculars that will track you down. He will find you.

That's it from THE VAN DOWN BY THE RIVER for this week. Smarty pants Stanford comes to South Bend (and their band had better behave this time) to try the Irish who are still smarting from those sneaky Spartans. Look for ND to make a strong statement.

R.I.P Leonard Skinner.

Peace.

Out.