FFF Exits - RKG Enters - CZ Reacts!!!
Posted: 2009-12-13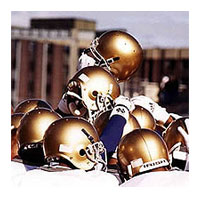 Brian Kelly was named Notre Dame's 29th head coach 12/10/2009. This news was greeted with much enthusiasm on Cyberzahm. This year Kelly led Cincinnati to a 12-0 season and an Orange Bowl berth against Florida. His career record is 171-57-2 and his mark with the Bearcat program was 34-6 in three seasons. In the past two years, Kelly has led Cincinnati to back-to-back Big East Championships. More then one person has suggested comments be archived, so here they are ...

Gabes:

The march back to the mountaintop begins, and from what I've heard, Kelly was insisting that certain admissions things needed to be agreed to if he took the job. My guess is that they agreed to start letting in those marginal "character" kids again, like Zorich, Rice, Rocket and Bettis. I predict a NC within the next four years!

...

And it might be sooner than four years!

...

If it doesn't work out, you can't blame Swarbrick. He went after the absolute best guy with college head coaching experience. In my opinion, it was a good hire.

This guy has won everywhere he's been a head coach, and in short order. He also shows fire and passion, something I think is critically important as a head coach of high school and college kids. One of the things I hated about the Fat Fucker's teams was that they seemed to lack the fire and passion that it takes to be a winner. I don't think that will be a problem with Kelly's teams, and I'll bet he's a great recruiter, too. Most importantly, it's nice to know that we'll have a head coach again who can run on the field with his team!

...

I agree completely with everything Sobo and Hans wrote (see below). ND got the RKG yesterday. He showed more poise and passion in five minutes than Fatso did in five years. I get chills up and down my spine when I think how great it will be watching the 2010 Irish jumping up and down in the tunnel before the first game as the crowd roars my favorite chant...Here Come the Irish! Here Come the Irish! Here Come the Irish! The Irish will be back, boys!

*******

Jack:

I am a happy camper. A Kelly as a head coach. Head coaching experience at the college level. A guy who has recruited in the midwest and other areas (there are very good players in the midwest - just more of them in Florida, Texas and California). He is a step up with hamper of players that is larger than when Charlie arrived. Charlie does leave a positive legacy in that regard. We are moving forward. Swarbrick did a good job. When I thought we could get Stoops, I did not know he is buildinng a 30,000sf house in Oklahoma - 30,000sf!!

Like all that I read about Kelly. UC has the highest graduation rate for the BCS teams this year (75%). Kelly is exuberant with the press. Apparently has written a training camp diary that was to be a one year exercise, but was so popular, it was continued. Catholic, has a degree from a Catholic college, a liberal democrat (oh well, 2 out of three ain't bad), lettered in football for four years, college coaching experience. He will get to work and I predict he will bring in a very good recruiting class.

*******

Sobo:

Hard to believe, but Gabes and I agree about ND's head coach!

Not to say I wouldn't have liked Urban Meyer or Bob Stoops, but expecting either to happen is up there with expecting Santa to be coming down your chimney in two weeks. Just wasn;t gonna happen. And in that context I think Kelly is the right guy for the job.

Had a chance to watch a replay of his press conference. The guy is poised, passionate, and confident. A bunch of things I like about him:
From a coaching standpoint he has proven he adapts to his players. Isn't stuck on one scheme. Managed to win 12 games this year after starting with a pro style QB, and after he got hurt, kept it going with a more running style of QB. Did the same on defense junking a successful 4-3 scheme because he had personnel more suited to a 3-4. The guy is fucking SMART! Here's hoping he brings back the 3-4 to ND.
By all accounts in a sonofabitch on detail and focus. That's how you instill discipline.
Has a passion for the game. Probably the biggest difference between BK and Charlie. In the players press conference Brian Smith said "I want to play NOW". Kelly stated during his PC that if a player cant get passionate about playing the game he likely won't connect with him. I'm looking for the same kind of emotion the Irish had in the tunnel before the 1988 Miami game. We punched them in the mouth before the game and then kept it up the whole day.
REAL important: his philosophy about player development. "It's about getting players to do things they don;t think they can do". Talk is cheap, but he's done that everywhere he's been. If he does that next year ND is in the BCS.
But from my standpoint, the most important thing Inlike about Brian Kelly is he "gets" Notre Dame. It was clear in his comments he loved the school and what it stands for . It was what I loved about Charlie, but he just couldn't deliver the goods. BK is clearly playing at a level he has never experienced (when asked about the facilities, he said when they were going to the Gug to show him his office they walked in and he sat down at the desk, thinking it was beautiful. Then they told him that was the receptionist's desk and his office was in the door to the left.) but I think he is prepared for the hype and the pressure. I think he can recruit against the biggies. His biggest challenge will be to hire a top notch staff that can "coach em up" the highest level. We'll see soon what he does.
I think he's a winner.
***********
Hans:
Sobo - nice post. thanks. The last two days have been very busy for me, and i did not want to shoot from the hip on the hiring of Brian Kelly before watching the press conference and various interviews from yesterday. Finally this morning, i had the time. If you have the time, the 49 minute post on und.com is very enlightening.
To use Kelly's words, he is the RKG - the right kind of guy. He said this is what he looks for in his players and I am confident that he will find the recruits that understand the opportunity to play for Notre Dame and all that the university stands for. Kelly commented that you do not come to Notre Dame to be average. He has a plan. He has successfully implemented his plan at schools before ND, and I like what I see, so far.
A couple of the players were interviewed on UND.com among their comments - Kelly has a sense of humor. He understands that in the development of young men, you need more than x's and o's. The players said they like his passion and are ready to go right now.
It sounds like Kelly has a good network of coaching friends, and it will not be overly difficult to attract the assistant coaches he wants. In the press conference, he said he will interview the existing staff. I wonder how many he will retain. Maybe the best one, Ianello, just left to be HC at Akron.
Kelly also clearly said that he understands the mission of the university to be excellent on the field and in the classroom. I did not get the sense that he feels the need to tweak any admissions standards to accomplish his goals - but it is way too early to get an accurate read on that point. At this time, my sense is that he will take the lead of excellence as has been established by Notre Dame for many years, and will not only continue it, but return our football team to national prominence.
I was impressed with how Jack Swarbrick has handled this process and his introduction of Coach Kelly. It is way too early to count on wins or national championships - but I do like the direction we are now in, and am anxious to be again in the stands in 2010 to watch the Fighting Irish do battle. We should be exciting, passionate, and classy. That should lead to wins. Kelly gets it. Let's let him do his job. Should be fun.