LMS Week 17
Posted: 2006-12-28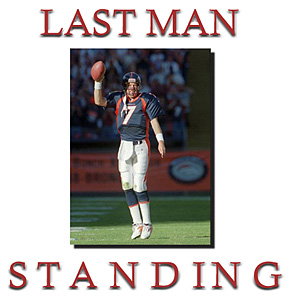 After all this, it comes down to these 7 final cages vying for the crown of LMS 2006 Champion.


WEEK SEVENTEEN - JUDGMENT DAY
Animals,
It was a bad week for Gerald Ford, James Brown, Saparmurat Niyazov, Saddam Hussein, Tom Coughlin, 7 49ers, 4 Falcons, 2 Bills, and HONDO and his Cowboys (bastards). Say hello to second place my little friends. All the other friendly animals have been waiting for your cage vacancies to open up.
So it goes. You pick sixteen weeks and what do you get? Tennessee Ernie had it right. And then there were seven. After all this, it comes down to these 7 final cages vying for the crown of LMS 2006 Champion. It's time to meet our final contestants:
STANK ASS JOEY WAX - In addition to having one of the most rotten LMS names imaginable, SAJW is a fifth year player. Take heart second place animals, this is the first time that he has made it past WEEK TWO (he formerly played as KING STENNIS. Hmmm.... could it be that choosing the right name is the key to this thing?). SAJW is a 33 year old civil engineer born in Plains, PA., now residing in Drexel Hill, PA. He is married, living with a cat and a dog, and his suddenly adoring wife. His favorite movie is a toss up between BRAVE HEART and BROKEBACK MOUNTAIN. He lists his hobbies as weightlifting, salmon fishing, and kitchen and bath renovations (that fact alone will have the majority of the animals rooting against him). His favorite restaurant is Chickie-n-Pete's in South Philly, and he's never met a beer he didn't like, but prefers Crown Royal on the rocks if someone else is buying. If he wins, SAJW plans to spend his money promoting world peace and paying off some BED BATH & BEYOND and LINEN & THINGS debt. His pick this week is the TEXANS. Yes, that's right, the TEXANS. Pick of the Week? I think so. No, that might be Pick of the Year.
CD1 - is a 33 year old Director of Operations for a major restaurant chain who claims to have invented the saying: "you want fries with that?" He is married with a dynamite little 3 year old son who he hopes will one day grow up and join the World Poker Tour (and that will get many of our animals rooting for him to win). He was born in upstate NY and still resides there. His favorite movie is ROUNDERS. He likes to dine on lobster and drink Captain and Coke. He plans, if he wins, to use the money to help promote world peace and get himself another shot at the World Series of Poker in Las Vegas (he finished in the top 100 this year and won over $100K. That, of course, will have most of the animals rooting against him). He's a first year player. His pick this week is the J-E-T-S JETS JETS JETS.
DREAM TEAM - is a 35 year old Chief Financial Officer for an acquisitions firm (read that: Major Big Shot Honcho). He was born in Lansing Michigan but grew up in the Bronx. He graduated from Morehouse College where he was known to lead his class in vodka and tonic consumption, having set both single weekend and semester long consumption records that still stand in his fraternity. Subsequent brain cell damage could explain his now fanatical association with New York Knicks basketball. He is married with twin girls who were born this past summer (yes, that will get you some LMS karma in the final week). He plans on using the money, if he wins, to help promote world peace, contribute to Sickle Cell Disease Society of America, help a good friend, continue to develop his black jack skills, and give his wife a well deserved vacation. He considers himself lucky to have taken the Bears before they played the Dolphin game. He's a fifth year man with previous high finishes of 4-1-2- and 10. This week he has his hopes riding on the RAMS. Did I mention that he has huge cajones?
STUTTGARTSLIME - is a 31 year old porn star mogul who was born in Oberlin, Ohio and now resides in Stuttgart, Germany (yes, the LMS is a global presence). He attended RIT University in Henrietta NY, and so is naturally still a bachelor. His favorite hobby is drinking beer (Stuttgart Hofbrau is preferred, but only 10 or so at a time) and watching lava lamps. His favorite movie is the one that his roommate filmed in college with those two coeds back in '98, and he still loves corndogs. He is thrilled that he has been able to pick up more than a few 4th quarter come from behind victories, and continues to play them all on taped replays. His step father is a distant cousin of Elvis Pressley and plays in a band in Tupelo Mississippi called the Mustangs. He plans, if he wins, to help promote world peace and do something nice for the little people who have helped make him what he is today. His pick this week is the J--E-T-S JETS JETS JETS.
JUMBO 1 - is a 37 year old mortgage banker from Charleston W. Virginia, now living in Hillsborough, New Jersey. A graduate of Middle Tennessee State, he is still smartly single and lists his hobbies as golf, skiing and drinking. His favorite movie is Animal House, and he considers John Belushi to be his personal role model. His favorite drink is Absolute and 7-up. He earned his nickname, JUMBO, from his early golfing days when he would light a joint and his eyes would squint up like Jumbo Ozaki. Many know him as "BOB" or "Black Out Boy" for his behavior after drinking the Absolute and 7-up. Animals are warned to beware when "BOB" comes out. If he wins, he plans to use the money to pay off a huge gambling debt from the Motor City Bowl and then promote world peace and take care of a few home improvements. This is his first year in the cages and his pick for the glory train rides on the J-E-T-S JETS JETS JETS.
MONK - is a 62 year old retired police officer who was born and still resides in Rochester, NY. He is a graduate of Monroe County Community College and enjoys playing with his granddaughter with whom he regularly confers on his weekly selections. He likes to drink diet cokes and dine on steak, especially when he is watching his favorite movie, PATTON. You may picture him with one of those CHUCK CONNOR flat tops if you wish. He is especially grateful for the Broncos OT win in WEEK TWO, the reversed pass interference call with 22 seconds remaining in WEEK FOUR, the blocked FG with 33 seconds left that gave him the one point win in WEEK 10, the last minute Chiefs TD in WEEK ELEVEN, and the Bear's QB change in the 4th quarter in WEEK SIXTEEN. If he wins, he plans to spend his money promoting world peace and traveling. This is his first venture into the LMS and his pick this week is the COWBOYS. Perhaps he doesn't know their history
WAYNE M - is a somewhat reclusive retired government worker who's last known whereabouts were somewhere in the Pine Lands of New Jersey. It is widely believed that it was our government that he worked for. No other details are on file. This is his second year playing (at least under that name. He is believed to have many identities). Animals requesting more information on him are advised to proceed with caution. If he wins, he plans to use the money to start a coup in an un-named third world country which will lead the world towards world peace, whether anybody wants it or not. His pick this week is the J-E-T-S JETS JETS JETS.
PICK OF THE WEEK for the final week looks at 3 Lone Wolves going for it all: DREAM TEAM taking the Rams on the road in Minnesota, MONK taking the Cowboys at home against the Lions, and SAJW taking the Texans at home against the Browns. While all deserve public mention for the possibility of winning solo, SAJW takes home the PICK OF THE YEAR honors, being only the 5th animal to take the Texans this entire season. The other four didn't fare so well with their Texan picks, JOEY. Good luck to you.
That's it for this week. Good luck to all of our finalists. Happy and prosperous New Year wishes to the rest of the animals from the Van, Down by the River. Final wrap up will be out sometime next week. Peace. Out.
ZK