Fearless Football Predictions
Posted: 2009-09-03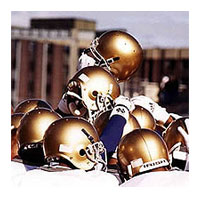 Here they are! Each of these fearless predictions was made before the 2009 season started. Of course, these are predictions only .. not what we hope for but what we believe will happen. Thirteen bold predictions - some have reasons, some have rhyme, but only one will be judged the best! Who will win the coveted first place prize?

The original challenge:

Here ye here ye, one and all.

Announcing Fox's 3nd annual ND season prediction contest.

Are you man enough to enter? .. confident in your prognostication prowess? .. not scared to go up against the preseason favorite from the Land of 10K Lakes?

So, don't be strangled by complacency, just send, by September 2nd, directly to me, a single paragraph of no more than 300 words with your prediction for the upcoming season. I'll post them for all to admire on the CZ News Site.

Come the end of the season a set of impartial judges will evaluate all the entries based on a weighted scale that includes entertainment value ("CW will clear the bench by the third game just so he can sit down"), accuracy ("they will lose badly to Mich State, lose a squeaker to USC, and win the rest of the games by an average of 4 points"), grammar and spelling ([not] "season be it good and vary happy winnings"), boldness ([not] "they will win every game in which they score more points than the other team") and just how all around good they are or should I say were. The winner will get a really amazing, yet so far undetermined, prize and will be featured on CyberZahm News!

Thanks.

Fox


---
Here is my prognostication:
The Vegas gang will roll the dice,
But our score theirs will double.
A win at Michigan? How nice!
But they will burst our bubble.
Then State stops in at old South Bend,
We'll handle them, no doubt.
The Boilermaker game will end,
And we'll be down and out.
When Huskies bark, it's them we'll bite,
And we'll be shouting, "Mush!"
But then the Trojans will alight,
And cause our crowd to hush.
We'll rise again when Boston's best
Come knocking from the East.
The Alamo will be a test,
We'll win by ten, at least.
The Middies are a gallant foe,
But we will sink their boat.
At Pittsburgh we will end the show,
Upon a happy note.
Connecticut may give us fits,
We'll win there, rest assured.
At Palo Alto, surely its
Our year to bag a bird.
Prep


---
Fox,
I feel compelled to send you my prediction since you gave me my prize for winning two years ago at the Cubs game last fall. So here it goes:
I'll save the entertainment value for my game by game analysis throughout the season. Bottom line says the Irish go 8-4 during the regular season. We'll lose to USC, and then we'll lose three more. Those three additional losses will come at the hands of three of these schools: Nevada, Michigan, Michigan State, Pittsburgh or Stanford. Now, a good coach would be no worse than 11-1 with the talent on this team and the cupcake schedule, but Fatso eats cupcakes instead of beating them. No BCS bowl. We'll lose to whoever we play in a lesser bowl like the Gator (Florida State, Miami, Georgia Tech, etc. will be no Hawaii). I say 8-5 is the overall record, season ends on another loss, and Tubby is sent to the fat farm. The good news is that we'll finally hire a top notch coach who will return ND to the Promised Land for many years.
Gabes


---
We should go 12-0. That said, I'm actually predicting 10-2. I think we'll beat S Cal and then tank the next week against BC. The other loss is one of those bad day deals that could come against Michigan State or Pitt or even Stanford.
I think we'll handle Nevada at home and Michigan who will likely be starting a true freshman at QB.
My predictions are mostly based on my high expectations from the defense. We have some very good defensive coaches and some very good defensive players. If Manti gets meaningful minutes, he'll have to be pretty good. We have major talent at LB and DB. I remember when Steve Filer was a must have recruit. He's battling to get on the field. Blanton and Walls at corners? I like that. The defensive line is young but deep enough that they should really generate some pursuit.
I'm making no predictions about the offense, except that it should be good enough, even with an average offensive line, to win 10 games. Some folks, present company excluded, got overly excited about the bowl win against Hawaii. I thought it was one of those days everything went right for us and wrong for them. While the score was dominating, the offense mostly relied on big plays. Golden go long. Rushing game was still poor.
Like it or not, when Bob Davie pronounced during a TV broadcast in 2005 that "Notre Dame has become a finesse offense!" he was right. Charlie has tried to beat people with individual matchups, schemes and playcalling rather than execution. Show me the brute force! Even when we had good records in 2005 and 2006 we were not a dominating team. As everyone in the world knows, if we can really run the ball this year, we will be very difficult to handle. If not, goodbye Charlie.
D.D.


---
Fox-
My prediction:
13-0. Beat Florida 27-10 for the National Championship.
[lots of blank lines were here]
If someone given Gabes mouth to mouth for his recent heart attack I will get serious…..
I'm going with what SHOULD happen: 10-2 regular season. Lose to USC because I think they will run on a young, understrengthed DL and stuff our run, making Clausen a one dimensional QB. He has not yet shown he can win when that happens. I also think we have several games- UM, MSU, BC, Pit, Stanford- which will be about a 4 pt. spread and it will be tough to win all of them; we stumble once. We don't get to the BCS, but win a Gator/Cotton Bowl type of game.
Could we be better? Sure. Lou has us in the NC game against Florida. I think that's a perfect storm. Probably more likely we're 9-3 or 8-4 than better than 10-2. At 8-4 Charlie will need a realtor.
I like what I've heard thus far from pre-season. More depth and speed than we've seen since Holtz. Our two most important people will be Verducci and Hart. This team will go as far as the Offensive and Defensive lines will take it.
Can't wait for Nevada,
Coach Sobo


---
USA Today Sagarin has us ranked 48th. That is not very good.
About 5 of our opponents are ranked ahead of us and a handful more are not far behind.
Sent from my Blackberry
Al


---
The USC win Charlie's first year was actually a fluke. We had them beaten and they pulled one out of their ass - just like we did at Michigan State a couple of years ago. I hear that Frank Verducci is doing a great job with the offensive line and that if it continues, his name might be in Sports Illustrated more than his brother the writer for SI. Lots more team speed. If the 'O' line is much better and we can run the ball with any consistency, we will win 10 games. If we run like last year, we will be 7-5 against a weaker schedule. Kicking game will be better. Defense will be better. We break out or not with the 'O' line. If I were Charlie, I would be sure Frankie had his favorite pasta.
Jack


---
As reigning champ, I guess I need to defend my title this year, so here goes--
Nevada--W, ND down at the start of the 4th, JC channels Joey Montana and pulls it out. Chorus for the FFFFFF's head begins anew.
MU sucks--W, Tenuta, tenuta, tenuta,--ND blitzs MU silly, Floyd runs amok, Tate blazes away.
MSU-W, ND finally beats MSU at home, stick that flagpole up your spartan arses.
PU--W, they stink.
WU--W, The third team gets more PT. Chorus ebbs.
U$C--L, the FFFFFF meet your Waterloo, his name--Petey Carroll. Chorus grows loud.
BC--L, hangover time, What's that you say? I can't hear you due to Gabes' screaming.
WSU--W, a trip to Texas is good for the soul.
Navy--W, ND bombs the Middies.
Pitt--W, revenge game after last year's 4 OT debacle. Take that Mr. Mustache.
UCONN--W, scrimmage in the snow against the local high school.
STAN--W, trees throw a scare in ND and FFFF, Heisman watch for next year starts now as JC throws game winning TD to Floyd as time runs out. Tree band does NOT come onto the field, but performs an obscene halftime show, soon to air on the Playboy channel.
Bowl game--L, At 10-2, ND squeaks into the BCS at #8. We go to the Sugar Bowl where we run into an SEC buzz saw and get embarrassed on prime time tv. The chorus is howling now, but the FFFF gets one more year. Upon hearing this, Gabes strokes out, falls into a coma, is placed on a respirator for 8 months, but stages a miraculous and full recovery just in time for the 2010 season and returns as the director of the chorus.
BB
Of course I hope, like Lou, that we win em all. Just to shut Gabes up for a day!


---
Ahhhh Gabes... You are like an eager big fish just before the stonefly hatch. You jump at anything that hits the water.
Sobo gotcha! If you patiently scroll down a bit to read his note... you see that Sobo is more thinking 9-3 than 13-0... with 8-4 meaning the hook for Charlie.
What is amazing is that nobody [except DD] really thinks we will beat USC... though this is a supposed upswing year for us where all the gold-star recruits are old enough to win... and a year where USC is starting a frosh QB and lost their NFL defense to graduation.
Meanwhile in the Pac 10 everyone understands that if you are gonna beat USC, this is their "down" year so you better get them now. Hell, Oregon and Oregon State play them well every year down year or not, and this year Oregon gets them at home. NOBODY in Eugene Oregon thinks the Fighting Ducks will lose.
And there is Notre Dame... still reeling from the recent absurd beat-downs... with a junior all-world QB, a more mature Oline, great receivers and a coming defense. And nobody really truly believes they will beat USC.
Amazing.
J
......
Fox... my predictions...
One upon a yesteryear when Notre Dame was NOTRE DAME, this schedule yields an undefeated season. The current team, though, is good enough to win 9-10 games, stumbling a few times with head scratching play. The thing is that ND can beat any team on its schedule, but lose to any as well. ND is good but hasn't proven it can run the ball or stop any team with a decent offense. The Syracuse game showed too that ND can lose to anybody, any time. You wonder about the mettle inside this team. Nice recruiting recently, but the team still doesn't have the athletes that USC, TX, FL and OK have.
Notre Dame, though, grows up this year and comes to rediscover its old self. They go 10-2.
We BEAT USC. Tough close game. They are playing a frosh QB… that's good for us. Their all-pro O-line lets them run the ball, pass some, shorten the game and score points. They still have great athletes all around… But their defense isn't the best anymore and Clausen has a great day with a few nice runs mixed in. Party in South Bend. We beat them next year too in LA.
But if we beat USC, where do 2 losses come from? There shouldn't be ANY! But there will be because our running game is improved but inconsistent. Weather, interceptions, sacks… all at the wrong time against someone… Let's see … One loss to a big ten team. Michigan State at home. Ugly. The other late to…. Stanford.
We go to a bowl game and play an SEC team… Alabama… LSU… and LOSE.
Sorry Gabes. We beat USC. That win gets Charlie YEARS more.
John


---
Men:
A team is a reflection of it's Coach. Does anyone really care anymore? We're 7-5.,
JoeyOld


---
| | | |
| --- | --- | --- |
| Date | Opponent | Result |
| Sept. 5 | NEVADA | W |
| Sept. 12 | at Michigan | W |
| Sept. 19 | MICHIGAN STATE | L |
| Sept. 26 | at Purdue | W |
| Oct. 3 | WASHINGTON | W |
| Oct. 17 | USC | L |
| Oct. 24 | BOSTON COLLEGE | W |
| Oct. 31 | vs. Wash State | W |
| Nov. 7 | NAVY | W |
| Nov. 14 | at Pittsburgh | L |
| Nov. 21 | CONNECTICUT | W |
| Nov. 28 | at Stanford | W |
Record 9-3
Al


---
Fox,
I think ND will struggle again this year by losing to teams that they should beat but don't. The issue will be the running game primarily, and special teams that don't perform as well.
The one upside will be beating USC in October. The 2009 season, however, will show that USC is in a down year.
Unfortunately that USC win will be followed by loses to Boston College, Pittsburgh and Connecticut.
After the Connecticut loss, the University will announce the hiring of a new football coach.
I'd tell you his name, but then you think that I was cheating by peeking into the future.
Ultimate record will be 7-5 with a trip to some bullshit bowl game.
Andy


---
Fox - I took a pass on predictions the last two seasons, but now I'm in knowing that there will be a kick-ass prize for the best guesser. or is that best gasser? How about tickets to a Villanova Wildcats football game? now, there is a real bruiser of a team.
OK, here goes.
Nevada - Jimmy Clausen throws 4 long TD bombs and the Irish romp against our arch rival
Michigan - the Big House is more like the out house these days. Rodriguez is trying to justify his actions. Sounds like C Weis north. this game is closer than the odds makers make it, but the Irish get the W.
Michigan State - Should be a revenge game, but we blow it against the Spartans again. The CW boo birds are back.
Purdue - the Boilermakers suck. Irish by 24
Washington - see Purdue. Irish by 27
USC - Irish enter this game 4-1 and are a 14 pt dog. We beat the spread and lose the game. So the Irish faithful are sad, other than the bookies.
BC - ND kicks their ass. A wonderful sight. I really dislike this school.
Washington State - I'll be at this 'home' game in San Antonio. Anyone else going other than Sobo? State blows. We win by 21 and party at the Alamo!
Navy - love the midshipmen. Too bad their team is lousy this year. ND wins
Pittsburgh - Wanny will be waiting for us. This was a terrible loss in 08. The Irish redeem themselves in PA - big.
Connecticut - tickets are still available for this game. I thought CT only played basketball. ND wins and trys to earn BCS points in the eyes of the voters
Stanford - remember two years ago when the Irish needed all the luck in the world to win. Happens again, and we get another W.
10-2 The voters keep us out of the BCS due to a weak schedule. We win the Gator bowl. Big deal. CW keeps his job. ND goes into 2010 ranked in the top 5. We'll see......
Go Irish! Hans


---
Is it too late?
I predict 10-2, with losses to:
Pitt
and either USC or BC, but not both.
And a win in a Bowl Game if non-SEC opponent.
Mags


---
OK. I'll predict an undefeated regular season just so on the off chance that happens I get to gloat that I was right and that everyone else needs to show a little more school spirit.
And I'll predict that we get killed by Florida in the NC game because I'm not really all that stupid.
Fox
The End