LMS XV WEEK SEVENTEEN - 6545 OUT, 1 DQ'D, 84 IN
Posted: 2008-12-28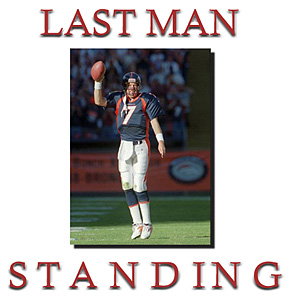 FATHER CHRISTMAS, GIVE US SOME MONEY - DON'T MESS AROUND WITH THOSE SILLY TOYS - WE'LL BEAT YOU UP IF YOU DON'T HAND IT OVER - WE WANT YOUR BREAD SO DON'T MAKE US ANNOYED - GIVE ALL THE TOYS TO THE LITTLE RICH BOYS
---R Davies

Apologies to all for the delay in this week's report.

Ancient bacchanalia were wild and mystic festivals celebrating the god Bacchus who worked for both the Romans and the Greeks (pretty good status man back in the day was Bacchus, a real five tool kind of guy)...


...In times it has become a term synonymous with pretty much any drunken revelry. Rumor has been rampant that such bacchanalia celebration is what is behind the lateness of this week's ZOOKEEPER'S REPORT, but that is only half the story.

There was no intended punishment for animals who couldn't make the journey to WEEK SEVENTEEN. Severe computer issues were at work this week. Remaining animals can identify with the many evil factors that attempt to derail greatness as they struggle in their quest to hit the finish line. Likewise, THE ZOOKEEPER had some season ending challenges this week. This was just one more obstacle along the way for THE WORLD'S GREATEST FOOTBALL. No time for frivolity in explanation. Football genius needs to have its final moment of chance. Just the facts.

When the trouble finally was identified, it was discovered that squirrels had chewed their way through the modem cables of the Commodore 64, and THE ZOOKEEPER had to solder all connections in place, strand by strand. Some in the vicinity of the VAN thought that the strange language heard may have been angels on high speaking in tongues on Christmas Eve. It wasn't. Professionals were called to hunt down the varmints responsible. They aren't expected to be seen again. Luckily, the 197 piece home repair kit received on Christmas Day did the job needed, and, even more luckily, Muscatel supplies held out through the troubled times. What you have here are this week's numbers:

6545 OUT, 1 DQ'D, 84 IN. 49 FALCONS, 15 RAVENS, 11 BUCS, 6 PACKERS FROM THE FROZEN TUNDRA OF LAMBEAU FIELD, and a couple of lone wolves going for the long ball: 1 CARDINAL, 1 LIGHTNING BOLT, 1 MIGHTY MIGHTY STEELER.

PICK OF THE WEEK HONORS for the final week go to the three lonesome animals hoping for a final week finish that takes them all the way to the top. WAM is on the Steelers over traditional rivals Browns, MATTHEW'S DAD is on the challenging Cardinals at home against the Seahawks, and JUNIOR TUNA will take the unpredictable Chargers over the equally unpredictable Broncos. Good luck to all would be football geniuses. May your talent take you where you want to go in this new year coming.

That's it. You can stop sending your desperate pleas requesting this week's report. It is finished here. LMS XV closes this week with 84 animals in search of limited immortality and 6546 would be champions watching in second place envy. Let the games conclude. RIP Coy Bacon.

ZK

ps. and, HEY! How bout them Irish!