LMS XV WEEK SIXTEEN - 6461 OUT, 1 DQ'D, 167 IN
Posted: 2008-12-21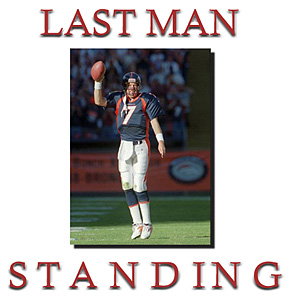 FROSTY THE SNOWMAN KNEW
THE SUN WAS HOT THAT DAY,
SO HE SAID, "LET'S RUN AND
WE'LL HAVE SOME FUN
NOW BEFORE I MELT AWAY."
-------- G. Autry

Newton's first law of motion is often stated as: An object at rest tends to stay at rest and an object in motion tends to stay in motion...

...with the same speed and in the same direction unless acted upon by an unbalanced force. More simply summarized, this observation can be amended to state that objects will "keep on doing what they are doing." This law of motion can be used to explain why we keep sending the same people to Washington every election cycle, and why Caroline will be New York's next Senator.

And so too the forces of inertia continue to keep 167 LMS animals frozen in their cages, waiting for some unbalanced force to knock them silly. But what of the 6,462 second place finishers? What forces act upon them to keep them following their now wrecked dream train continue on its journey? In one of the hundreds of notes received in the mail box DOWN BY THE RIVER this week, second place animal OBXER wrote, "We're getting there. I love this pool !! I wonder why?"

Well, OBXER, let me tell you why. It has much to do with Newton's observations and the universal attraction we have to FROSTY THE SNOWMAN.

All animals know that there are 3 primary reasons why they climb into their cages each year. In order of priority and hierarchal needs they are:
TO BENEFIT THE MANY HUNDREDS OF ORGANIZATIONS AND PEOPLE WHO RECEIVE MUCH NEEDED ASSISTANCE FROM THE WORLD'S GREATEST FOOTBALL POOL
TO READ THE ZOOKEEPER'S WEEKLY REPORTS WHICH ARE DESIGNED TO ADD ZEST TO OTHERWISE UNFULFILLED LIVES
TO WIN AND BECOME FILTHY RICH
In this final reason is found the motivating factor that drives animals like you, OBXER, to the transcendent possibility of a magical transfiguration like FROSTY, or even of just witnessing metamorphosis (that's "change" to those of you without on-line dictionaries). Lots of it.
Like a vision of Jennifer Anniston clad only in a neck tie, the tale of FROSTY is well known to all animals. Matching perhaps only THE ZOOKEEPER, FROSTY is the coolest of all winter characters. Who else do you know who has a corncob pipe, a button nose, and two eyes made out of coal? (Ok, so if you stuck a corncob pipe in NY State Governor Patterson's mouth he'd be close, but that's not the point.) FROSTY charms mostly because he defies Newton's first law of motion - he changes. Change is what all animals seek. Their rebellion to inertia is primordial. Dull, everyday, routines that are the essence of animal existence get a chance to soar in the cages each Sunday. Even the forever second place animals can empathize with the hope that springs from the magic of football genius.
And then, as it is meant to be, FROSTY turns to slush. That's the part you animals really love to witness, OBXER. More Muscatel is what takes the ZOOKEEPER there.
There must have been some magic in that play calling hat Dick Jauron put on last Sunday, at least as far as Jets fans were concerned. The benefactors from Jauron's size 6 1/8 cover, with more empty space beneath than a dinosaur skull, were 10 lucky animals (now football geniuses in waiting), who watched as J.P. Losman danced around on second and five until he gave them an incredible save from a certain second place finish and a safe landing into WEEK SIXTEEN. 17 Native Americans were not quite as fortunate (including P.O.W. DIMPLED BALLS - who opted off the Patriots late in favor of this remarkable pick) in their trip from the one foot line with a third and goal. They needed only the extra distance of clothing that would have kept Sondra Fortunato's Santa suit in the stadium at the swamp, but it was not to be. Throw in a couple of Titans who were as off target as a couple of size tens at a presidential press conference, and when the dust had settled from all of the WEEK FIFTEEN action, 167 football geniuses remained.
If you are scoring at home (lonely person that you are), that's $992 and change if all remain through the next two final weeks. The height of Cage population seems to be in direct inverse proportion to Federal Reserve rates. Word out of the VAN is that the ZOOKEEPER has invited the best and brightest to an economic summit to determine what non-traditional approaches can be taken to best enhance the chances for wealth beyond timid imagination for the remaining caged ones. For now, the numbers stand as follows in search of unbalanced forces:
6461 OUT, 1 DQ'D, 167 IN. 47 TEXANS, 41 PATRIOTS, 26 BRONCOS, 21 SAINTS, 10 DOLPHINS, 5 49ERS, 5 J-E-T-S BRETTS BRETTS BRETTS, 3 COLTS (bastards), 3 EGGLES, 3 BEARS (oh my), 2 BUCS, AND 1 NEW YORK FOOTBALL GIANT.
A nice distribution for WEEK 16. POW has to go to SUPERFREAKS taking the Jints in a tough selection game against the Panthers. SUPER could take it all down if the forces of the universe align to be so.
That's all for this week. Don't forget to order your 2009 LMS Christmas Stocking Stuffers. Malia and Sasha have theirs. AND DON'T FORGET TO GET YOUR PICKS IN ON CHRISTMAS EVE NEXT WEEK. THE ZOOKEEPER is just sick enough of this damn thing to DQ you in the wink of Santa's eye. RIP Slingin Sammy. MERRY CHRISTMAS to all (yeah, SEASON'S GREETINGS too), and to all a good night. Peace. Out.
ZK