LMS XV WEEK EIGHT - 6105 OUT, 1 DQ, 523 IN
Posted: 2008-10-25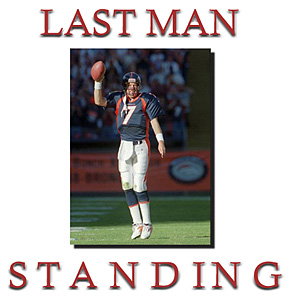 MONDAY: NOTHING,
TUESDAY: NOTHING,
WEDNESDAY AND THURSDAY: NOTHING.
FRIDAY, FOR A CHANGE: A LITTLE MORE NOTHING,
SATURDAY: ONCE MORE NOTHING.
----- T. KUPFERBERG Sunday: 16 OUTS. It was hardly worth bothering to put down the jug and sober up in order to clean the cages this week. THE ZOOKEEPER could have done this work ...

... in his pajamas (which, by the way, he often does), the same one's that Mr. Blackwell trashed those so many years ago. WEEK SEVEN Sunday scoreboard watching was as exciting as an Alan Greenspan testimony without any of the drama. ACORN wouldn't have even bothered to register voters from this meager animal crew. Michael Vick killed more dogs than this. Ted Stevens had as many chairs stolen and mysteriously replaced with better ones in his living room. Nebraska had to deal with more discarded teenagers (and I hesitate to tell you animals about this program because I know how quickly you might see a solution to getting rid of yours). Sarah Barracuda bought more jackets than that last week, and Mayor Bloomberg may serve more terms in office than the number of animals evicted from their cages. Such are the uncertainties of week to week action in this, THE WORLD'S GREATEST FOOTBALL POOL.

Yes, football genius was in abundant supply this week. The over-supply of genius lessened the demand for pigskin prognostication skills in the cages, and those involved in trading the paper on the action took a welcomed tick upwards in their own estimations of their talents. Those of you caught in default picks are still screwed, however. Worst of all (and you know who I am talking about now) are the cocky remaining animals who are quick to belittle and laud their superiority over their ousted friends and companions, who obviously don't know JACK SCHITT about football. It's like listening to your neighbor brag about how he moved all of his money into gold a few months ago. And they wonder why all of the other animals LOVE to see the elimination and destruction of those remaining each week. SLUGGO went so far as to challenge THE ZOOKEEPER to do a better job of getting more animals OUT this week. He,and all the others remaining, should take note that we are only approaching the half way mark this week. There is much football remaining. 10 weeks to go and the futures market is looking rough. Be careful animals. That once a century tsunami is still lurking out there.

For those of you who have inquired as to where LMS XV compares after seven weeks to previous years' activities, the following information may prove useful in your studies. I'm sure it will provide some brilliant analysis feedback emails from the animals that THE ZOOKEEPER will be happy to share with all in the cages:
| | | | |
| --- | --- | --- | --- |
| YEAR | # OF ANIMALS CAGED | % REMAINING IN WK 8 | # OF WINNERS THAT YEAR |
| 2008 | 6629 | 8 | ? |
| 2007 | 6209 | 29 | 60 |
| 2006 | 5387 | 12 | 6 |
| 2005 | 4961 | 24 | 96 |
| 2004 | 4273 | 7 | 1 |
| 2003 | 3724 | 10 | 5 |
| 2002 | 2783 | 21 | 3 |
| 2001 | 2213 | 1 | 1 |
Of course, here are the numbers that you really need to feed your restless dreams:
6105 OUT, 1 DQ'D, 523 IN. 286 J-E-T-S BRETTS BRETTS BRETTS, 80 RAVENS, 39 EGGLES, 34 TEXANS, 33 NATIVE AMERICANS, 24 JAGGYWIRES, 20 PATRIOTS, 2 49ERS, and a host of lone wolves going for the long ball this week - 1 TITAN, 1 PANTHER, 1 BENGAL, 1 BILL, 1 BUC.
PICK OF THE WEEK HONORS: goes to MONZ taking the 9 point road dog Bengals in Houston this week. This is the same guy who picked (and won) a 13 point road dog in WEEK THREE, when the Dolphins beat the stuffings out of the Patriots, and knocked out 839 Patriot cages that week. He may be undisciplined, but he also may be a football genius. It's a very fine line. HONORABLE MENTION goes to all of the other lone wolf selections looking to take it all down here and now - MIXIT UP (BILLS), GAVIN7 (BUCS), CHILI PROVIDENCE (PANTHERS), and BIG RED (TITANS). Good luck to all.
That's it for this week. The Irish head out to the west coast for the "TY Game" with Washington. Just win, baby, win. Peace. Out.
ZK