A Tribute to Joe Nuxhall
Posted: 2007-11-28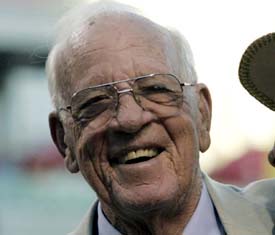 Being baseball fans, many of you guys know who Joe Nuxhall is. Joe died late Friday night, November 16th, at age 79. He first appeared in the majors in 1944, pitching for the Reds, just a couple of months shy of his 16th birthday.

Joe retired from the Reds in 1966 and went into the broadcast booth. There he teamed with Marty Brennaman for 31 years. (It was Al Michaels for a couple of years before Marty.) Joe still called some games this past season, despite his "retirement" in 2004 and his bouts with cancer. Even was he wasn't calling the games, Joe was around the ballpark.

I never met Joe, but I can't think of anyone in this City whom I would rather have met. Of course, most Cincinnatians never met him, just felt like they knew him. Joe was not only the most beloved sports figure in this town, but the most beloved person period. He was a regular Joe, without pretense, treating everyone as an old friend, and perpetually and genuinely surprised at his own popularity. I started listening to the Reds on radio in 1970 and always enjoyed Joe's butchering of the language, and his convoluted questions while interviewing the "star of the game."

D.D.

---

When I moved to Indy in 1974, I became a Reds fan in part because at that time the Indianapolis Indians were the AAA farm team of the Reds and had personalities like Ken Griffey, Sr., George Foster, Ron Oester, Mario Soto, etal, playing down here.

Dave, you might remember the time Joe was interviewing Tony Perez after TP hit a game winning home run. When Joe asked TP about the pitch, he said, "Yo, I tink it was a fuckin fastball". Will never forget that!

He would close with, "this is the Old Lefthander rounding third and heading for home". He has finally made it!

Jack

---

Jack,

I don't remember that particular interview, but it the Star of the Game show was always a treat. The Bengals honored Joe before their game yesterday, people are putting notes and flowers by the Ole Lefthanders' statue outside Great American Ballpark, the newspapers have done full sections on Joe, and on and on. Just a wonderful guy. Every city needs a Joe Nuxhall.

In his final non-baseball public appearance, Joe stood on the outdoor stage and led the Chicken Dance at Cincinnati Octoberfest just a couple of months ago. Just a scream.

D.D.