Foreskins Win Second Consecutive Title
Posted: 2007-09-23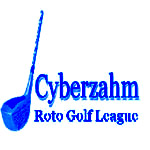 Gabes' Skins claimed their second consecutive roto golf title in our shortest season on record.

The new PGA Tour format, complete with an "end-of-season" playoff, meant that roto golf ended before Thanksgiving this year. We are now faced with a LONG off season of almost 14 weeks. Unheard of.

Tiger ran away with the Tour Championship and Gabes walked away with the title .. neither outcome was seriously in doubt during the last match. Here is the commissioner's final report of the year, plus a little give and take with the Dimpled Balls:

---

Tiger blew away the field yesterday, and in so doing, he won the Tour Championship, the Fed Ex Cup, and another skin for Hans. Andy's trade of Tiger will go down in CyberZahm history as the biggest bonehead move of all time. Not only did it cost Andy a Major skin, but it cost him a number of weekly skins, and a second place finish (more on that below). [Perhaps a first place finish?]

Low team score at the TC was Al's 45, followed closely by Fox's Phucks at 61, and my Skins at 80.

As Fox wrote last week, my Skins captured the crown for the second year in a row before the TC started. Fox beats Andy for second place by 5 points. If Andy had Tiger's first place finish rather than Scott's 26th place finish, he'd have taken second place. Hans takes fourth place, and Al's Balls used a late season surge to move from the basement to the final money spot. Jack's free fall from first place a couple of months ago sees him drop all the way to sixth place. Sobo is everyone's girlfriend.

Congrats to all of the winners, and better luck next year to Jack and Sobo.

Gabes

---

Albert wrote:

Had Phil shot 2 strokes lower on the last day, the DBs would have had the lowest total of the year by himself. But I am honored to share it w/ Fox.

Don't know that I got my props for passing Sobo and Jack down the stretch after being in last all year... And taking all the shit that I did.

---

I gave you props for getting hot at the end and moving your shit out of the cellar so that Sobo could move in. Jack was in a free fall the last few months. He dropped from first to sixth in that time. Congrats on beating two turds! You were never any factor in moving closer and finished a distant fifth. I think they call guys like you on the golf circuit ham and eggers. Are those the kind of props you are looking for?

Gabes