Burgundy Mushrooms!!
Posted: 2007-02-09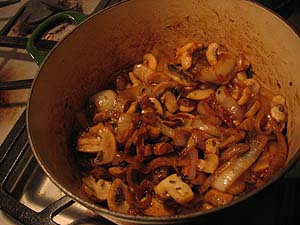 Jack says: Best damn mushroom recipe ever!



Burgundy Mushrooms – this recipe can be multiplied up to 4 times for a big batch!

2 lbs. Medium Mushrooms with or without stems – we prefer without
1 cup butter
2 cups Burgundy wine
2 teaspoons Worcestershire Sauce
0.5 teaspoon Dill Seed
0.5 teaspoon ground pepper
1 clove garlic
1 cup boiling water
2 beef bouillon cubes
2 chicken bouillon cubes

Put all ingredients except mushrooms in a pot. Bring to a slow boil, add mushrooms, bring to a boil again. Reduce heat, cover, and simmer for five (5) hours. Remove cover and cook for three (3) hours, stirring occasionally.

Then just enjoy!