Recap of a three day weekend spent by Willo, Fox and Al, in Myrtle Beach at Al's new condo.
Albert's Original Recap: [fox's additions in brackets]
Thursday
So the weekend gets started on Thursday evening with Willo visiting my home, eating my steaks, drinking my wine… and engaging Florence in conversation about her "feelings" about me buying the place in Sunset Beach against her wishes. Kind of like inviting a wino version of Dr. Phil to your home, if you get my drift.
Friday
We awake at 4:45 am for our 7:00 am flight, arrive 8:45, grab a car, and pick up Fox who arrives at 9:30. His clothes arrive… but not his clubs. Fox is pissed… until he finds out that US Air will allow up to $75 in expenses for his inconvenience. He is happier still when he finds that he can rent Taylor Made's for $35, and he enjoys his $40 surplus shopping spree on balls, gloves, etc. [a sleeve of balls, a glove, a hat, and a pack of tees – the stupid glove was $20]
We have a nice breakfast, disturbed only by Fox's bleating for more strokes because of his missing golf clubs. We counter with the fact that his rentals will be much better than what he usually plays. And then we head to Arcadian Shores, our traditional "getaway" course, just across from Kingston Plantation. The weather is beautiful, hot and sunny, with a nice breeze making it more comfortable.
The quality of the golf is less than stellar, but the laughs abound. My 86 is sloppy, Willo posts 103, and Fox blames his 113 on the weight of the rental wedge. Go figure.
<![if !vml]>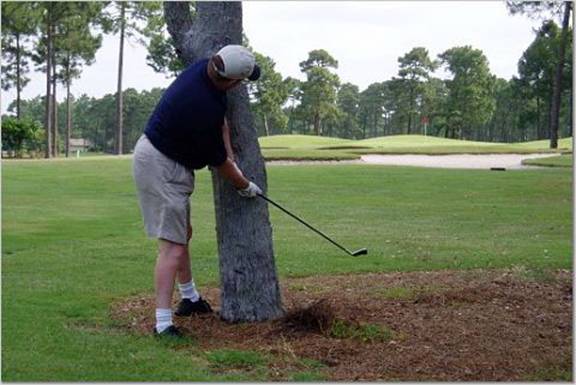 <![endif]>
Fox displays good form with the wedge
It is 5:00 when we leave the course, and I have learned about a beach bar just a mile or two from the course… Ocean Annie's. Too bad we didn't know about it during our trips to Myrtle… it is on the beach, live music, overlooking the ocean and a hotel pool, and it is HOPPING. Cocktails, cold beers, and great scenery:
<![if !vml]>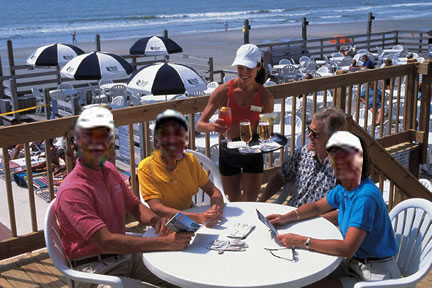 <![endif]>
We enjoy Ocean Annies
The party heads north… dinner enroute to Sunset Beach, just a few minutes over the NC border, and we check in at Sea Trail. Fox's clubs are waiting for him at check in… his wedge will be properly weighted in the morning. Beers and wine, ESPN and B-ball, high speed I-net access, and negotiations over strokes dominate the evening at the condo.
Saturday
Saturday is a beautiful morning… and we are lined up for 36, at two of the courses at Sea Trail, the first being the Jones. Greens fees for my guests, including carts, is all of $37 to play some really nice and well maintained courses…. Leaves lots of $$$ for beers and bets. Fox, however, drops his Nassau bet down from $3 to $2… maybe he isn't all that confident about his wedge. The boys have begged that we play the sissy fairy Mary white tees… as well as get add'l strokes. The early bed time the night before has paid benefits, and all of us are on our games. Sure enough, Fox's pitching and chipping has improved dramatically, Willo's game is as sharp as I've seen. And the handicaps are spot on, leading to exciting Nassau and skins action. Fox comes in at 103, Willo 93… but a few 30 footers drop for me, I get around with only 30 putts, I get some good breaks on some errant drives… OK, GREAT breaks… and my 78 puts some of their money in my pocket.
<![if !vml]>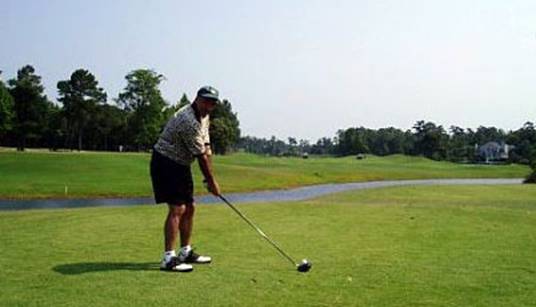 <![endif]>
Lunch… and then 18 more on the Maples course. Much tighter, more trees… and the cart girl becomes a good friend as the beers are flowing. Fox becomes convinced that beer is good for his game, and I am a believer. More good bounces on my occasional errant drives, more solid putting, and Willo is cursing my good fortune as I post a 79. Willo shoots 100… but Fox [99] is hot when it counts, and he walks away with most of the skins. Damn that wedge!
We take a "flyer" on a sports bar and grill for dinner, so Fox can watch the Flyers lose game 7. The place looked a bit dicey… but the rib eyes, smothered with shrimp, peppers, mushrooms, and onions, is incredibly good.
Sunday
On Sunday am, a friend of Willo's, Jeff, comes and joins us to make it a foursome, and we play the third course at Sea Trail, The Byrd. Jeff isn't much of a golfer, but he is a really good guy. We tee it up at 7:30, and by 9:00, Fox is asking the cart girl for his beer "pick me up". AAARRRGHH! It is Sunday, and they don't serve beer until after 12:00. But crisis is averted as the course winds along my condo, and Fox and I veer off to load up on Heinekens packed in ice plastic bags. Plenty enough to make it until noon… and sure enough Fox's game picks up immediately!
Now… all weekend Willo had been whistling an incredibly annoying tune. Haunting… grating… I suppose it was some type of Steven Covey gimmick to help set your mind at ease after hitting shitty golf shots. Not sure if it set his mind at ease… it didn't help his golf game… but it was really starting to drive me NUTS. But fortunately, after enough beers on Sunday, he changed his routine. Somewhere on the back nine, after hitting a poor shot, he mumbled "I hit that like a woman". And then he sings out, a la an ugly and off key Shania Twain: "I FEEL LIKE WOMAN!". The whistle is now dead, and that becomes his catchphrase for the balance of the day. I know that Fox has had one beer too many when he tells me that Willo is getting to him singing that Dylan song. He thinks he is singing "Just Like a Woman". Of course, he putts like a little girl. He shoots 100, and I birdie the last for a 79.
The day is gorgeous, again, and the 18 ends too quickly. Instead of the pool or beach, we decide to play 9 more. After buying another dozen Heinekens at the clubhouse, of course. We opt to play an 8 hole Nassau… front 4, back 4, total 8… leaving the 9th hole for negotiated, on the tee bets.
We learn that there is a law of diminishing returns on Fox's beer/golf theory. Never clearer than we conceded a 30 footer for 12… on a hole when he did not go out of bounds nor in a hazard. [Hey, it was a par 5] The laughs are coming fast and furious, and Willo is singing up a Shania Twain storm.
On the 8th tee… a par 3, water on the left, Willo sets up a "closer to the pin" bet for him, Fox, and Jeff, $3 per man. Fox goes kerplunk on his first. Willo offers him another shot for another $3. Fox lands one in someone's back yard. Jeff plunks his first, and Willo offers him another shot for another $3. It then dawns on Fox that ad''l shots by ensuing players has only downside for him, as it increases their chances (minimal at best, anyway) that someone might catch lightning in a bottle and hit the green, costing him $6. He begins to debate whether following players have the option to hit second shots as he did. And I feel like I am in the middle of a roto draft rules debate on a golf course! I act as TIGRE (The Imperial Golf Rule Enforcer) and deem Jeff a second shot but Willo but a single shot. Willo's iron was true… but the wind knocked it down and left it a bit short of the $12 green he had hoped to hit. He gyrated on the tee like a naked gypsy… but the best was yet to come.
Despite all the nonsense, I am two over heading into #9. Willo wants a bet on the par 5… and we decide on three bets instead. I will give him .5 strokes… 1 stroke… and 1.5 strokes. He connives Jeff into a bet, offering him a stroke… candy from a baby, he chuckles. He also bets Fox on longest drive off the tee… you don't have to be in the fairway… "just close". Well, Willo hits one of his best drives of 81 holes …
<![if !vml]>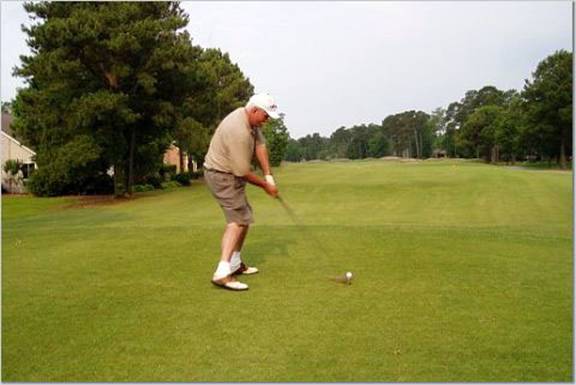 <![endif]>
and is chortling big time as Fox gets over his ball. But Fox hits a sweet, strong draw, and when we get out to the balls, it is very close. But Willo is in the fairway and a few yards closer to the pin. [Maybe 6 inches]. But this is Fox, remember, and he argues that because he hit his ball slightly off line, it actually has traveled FURTHER off the tee than Willo's. [Absolutely] He is referencing the cosign of 10 degrees across 220 yards as evidence of him being the winner. I am not kidding! Of course, this is the same math genius to whom I had to explain how the handicaps worked on head to head bets vs. skins bets every other hole for 3 straight days. [It's an illogical system]
I hit a solid shot, about 20 yards past Willo, but in light rough on a downhill lie. Willo crushes a fairway wood… his best of the weekend… and I hook a shot into the rough. He is 50 yards from the green, I'm about 70… and he is getting .5, 1, and 1.5 from that distance. Doesn't look good for your author…. But I have one shot left in my weary bones. My sand wedge to a very tight front pin never leaves the flag… lands just on the front of the green, bounces once, and rattles the hole and pin… juggles around the hole, and settles about 12" from the cup. Willo calls me a lucky bastard… and I'm thinking that if I had ANY luck, I'd been in for eagle. With my birdie assured, Willo "Chips Like a Woman!" and chunks the shot. To his credit, he follows that with a solid effort, leaving himself a 10 footer, under the hole for par. Jeff is in for 6, net 5, BTW. And if Willo sinks this putt, he'll halve Jeff, and win one, lose one, and halve one with me. If he misses, he loses all four bets.
And his ten foot putt comes up only about four feet short. "And he putts just like a little girl"
I could go on about the wild women we met that evening, but I'd rather end the story with Willo's limp putt.
A splendid time was had by all, and I hope you boys can join me down there at some point in the future.
<![if !vml]>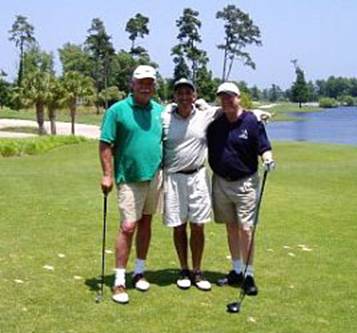 <![endif]>
Addendum:
Before Fox whines even more... I left something out in my recap.
On the 81st hole... the last of the weekend... after making a 12 just a few short holes ago, and clearly GWI (Golfing While Intoxicated), he drains a snaking, downhill 40 footer for his only birdie of the week!
Of course... he was too "frugal" to have bet ant money with me or Willo on the 9th tee, but a birdie is a birdie, and the story needs to be told.
Ike's Classic Line:
How apropos: drunk, lucky and cheap, all in one neatly wrapped package. Fox: still a role model for us all.
Fox's Version:
> How apropos: drunk, lucky and cheap, all in one neatly wrapped package.
More like: relaxed, accurate, and generous.
> Fox: still a role model for us all.
Now you're talking.
Great recap Albert. A few comments:
Albert's place is wonderful.
On the longest drive bet on the last hole Willo wasn't "a few yards closer to the pin" ... we're talking inches. But he was closer to the pin. And I was further off the tee.
Albert had a charmed weekend. He played great but over the course of 81 holes he probably hit a half dozen shots into the woods that looked like they would be real trouble, and the trees kept throwing them back into the fairway.
Finally, we all were commenting on how our memories are slipping. Very evident while watching Toy Story Two and trying to identify the actors behind the voices. But most evident when I said goodbye to Willo's friend Jeff after playing golf for 27 holes and having dinner .. "Nice to meet you Kevin".
Duh!
The End