CyberZahm - Dallas 2013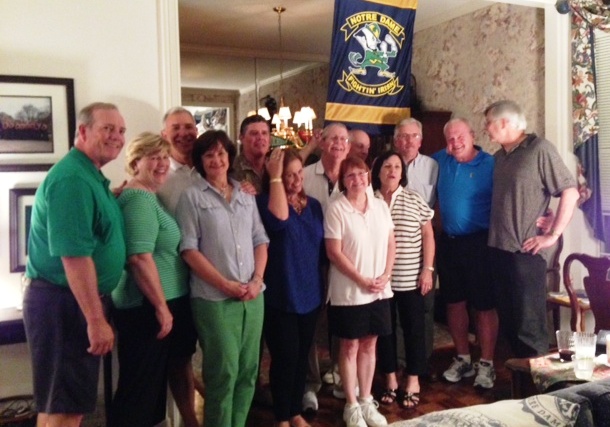 October 2013

Under construction

Bill & Sue, Dave, Hans, Prep, Jack, and Sobo got together in the environs of Dallas, accompanied by other friends and family, as Sobo hosted yet another extraordinary reunion. Wish I could have been there but certainly am grateful for the sharing of the adventure by those involved through the posts and photos captured here ... Fox
And the Irish win! Notre Dame 34 - Arizona State 31
---
Preps' Recap
A tip of the CZahm hat to Sobo for hosting the reunion this year. I wasn't able to stay for the game, but here were some of the highlights for me...

I arrived in Dallas on Wednesday night and drove to Austion for the night to visit my daughter. My wife flew in to Austin on Thursday, and we had a wonderful lunch at a small Mexican joint that we first visited when we took our daughter to school at St. Edwards University there. I then drove back to Dallas Thursday evening and met Sobo and his family, and Jack, Hans and their spouses at a nice little Italian joint near Sobo's house. Food and company were great; it was the perfect cap to a long day.

On Friday, Dave D. arrived and we connected at the "wrong" hotel but we connected nevertheless. After a long conversation over coffee about families and fishing, we drove to the JFK 6th Floor Museum on Elm Street. I had hoped to visit the George W. Bush Museum, but the government shutdown prevented that. First the panda cam and now the Bush Museum - truly, this is the end of times.

At any rate, it was my second visit to the JFK Museum and Dave's first. We stood in line for two hours with a throng of ND and ASU fans, but the wait was well worth it. Say what you will about JFK, walking by the 6th floor window, standing on the grassy knoll and watching the Zapruder film is a very emotional experience. As we left the building, Dave said, "That was depressing." It was the perfect word to describe the experience, at least for me, and yet I would not hesitate to visit there any time. The Camelot years are the stuff of which Greek tragedies were made. Beyond that, someone out there knows not only that Oswald did not act alone, but also who acted with him.

On Friday evening, we enjoyed a wonderful dinner party at Sobo's home. Billy and his lovely wife joined us. Food, conversation and laughter were in abundance. Sobo and his family are gracious hosts, and their home is warm and welcoming. I overstayed my welcome, but I still got back to the hotel for a couple of hours of sleep before heading off to the airport. (Dave, let me know my half of the room charge.)

As much as I was sorry to miss the rest of the weekend, I got back to St. Paul in time for a very emotional and enjoyable wedding involving close friends of mine. The bride's mother has advanced MS, the family has faced that challenge for many years with great courage. They have been an inspiration for me.

Sobo, many thanks to you and your lovely wife for your hospitality. Hans, Jack and Billy, it was also great seeing you and the charming women that put up with you. Dave, what can I say? We may not be an item, but I can see why the ladies swarmed around you in the old days.

Peace to you all.

Prep
---
Hans' Recap
This will be a combination of comments on the weekend with the Sobolewski's and my thoughts on the game.
First, a big round of applause for Gary and Sharon. Sheila and I thoroughly enjoyed our weekend. Starting with dinner at their favorite Italian restaurant, we were joined by Sobos daughter Colleen and husband Sean, Jack and Mary Kay whom I expected to see, and Prep! What a great surprise.
Golf Friday at Sobos club was great. It was interesting to watch a member have words with his trophy wife. We were tempted to console her, but thought better of that idea... The Sobos hosted a fun party Friday evening at their home - Prep this time was joined by Dave in from Cincy. And Bill and Sue Phillips were there with their daughter, Michelle. The neighbors helped make this evening, capped off by a few games of pool. Brought back great memories of Nickies.
I assume you saw Bill's photo of the party bus Sobo lined up for the trip to and from JerryWorld. Hilarious. Too bad the driver took out the stripper pole. You never know what might have happened.
As for the game, the Irish defense stepped up nicely. Az State had put up 62 on USC the week before. Sure, there is plenty of room for improvement, but they did show progress from previous games. Sorry to see a key LB lost for the season with a broken tibia. A forced fumble and key pick six at the end of the game were both key. Prince Shembo had a couple of great sacks. And speaking of sacks, there were none by Az State against Tommy R. Rees combined a number of great throws with a couple of bonehead ones. Love TJ Jones. He made a many strong grabs. Also pleased to see the running game improvement. Az State run defense is not as good as MSU or OK, but they were a top 25 team. We ran the ball well.
At the end, we survived. Not pretty, but a win. And a great weekend for Notre Dame showcasing our great university. Too bad everyone could not have been there.
Oh, and Jerry World, aka AT&T Stadium. it was awesome in person. The size and quality of the 4 jumbotrons over the field was a sight to behold. No bad seats in the stadium with everyone able to watch plays and replays.
After a week off, USC comes to town. Sorry that Lane Kiffin no longer coaches the Trojans. He was an opponents best friend.
Who else will be at the game? Go Irish! Hans
Tom H
---
Dave's Comments
I second all that Hans and Prep had to say. Many thanks to Gary and Sharon for hosting and organizing and to Sean and Colleen for the pre-game party. The Sixth Floor Museum is extraordinary and brought back too many memories of that confused time. Chatting on Cyberzahm is great, but no substitute for time spent together. That was the highlight for me.
Jack, Mary Kay, Hans, Sheila, Bill Sue, Prep - great visiting with you all and the many guests at your house and Colleen's. I have to admit my memories of Dick S. were dim, but he was a lively participant and good company.
Best to all.
Dave D.
---
Jacks's Comments
Ditto, Ditto, Ditto
MK and I had a great time
1. Enjoying the hospitality of the Sobolewskis
2. Enjoying the company of great friends
3. Enjoying the ND victory
4. Looking forward to the next time together (with an even bigger group)!
Jack
---
Bill's Notes
Just getting online in the middle of all this today. The Phillips family's thanks also go out to Gary, Sharon, Sean, and Colleen for the pre-game parties. Loads of Texas hospitality!!! Game was fun and exciting, stadium was fabulous, our seats were great, thanks to Sue's brother, Dr. Jim Rice, ND 72 from Keenan. I'll have to ask him if he knows Dick, who sat next to Sue to and from the game and regaled her with stories of his ND life. He's quite the character. I sat next to DD to and from the game, and think he got in naps both ways in spite of all the music and noise, but hey, he can sleep through Al's snoring, so I'm thinking he can sleep through about anything! Sorry I missed the golf on Friday with Sobo, Jack, and Hans, but due to a bit of miscommunication between Sobo and me, I didn't know about it. Hopefully at another Cyberzahm reunion... Those of you who didn't make it, you were missed. Our trip home was quick and interesting, so glad Texas has a 75 mile an hour speed limit now, and the troopers were taking Sunday off.
Best to all, till we meet again.
BB
---