Poker Night
Well, it took the COVID-19 global pandemic to trigger it, but some of the CyberZahm sad sacks grew tired enough of house arrest to initiate an online poker game to soothe their aching gambling joneses and isolation. Inspired by the lure of free online poker apps playing for "chips", the gang ventured into a regular weekly friendly game with the usual banter and helpful comments on how to gracefully win, or lose, in No Limit Texas Holdem. Despite some glitches in the software, an initial gang of 6 struggled through audio/video snafus and application failures; then discovered another, better and more stable application developed by a Brazilian geek who just wanted to do as we did, play online poker with friends during the tumult called 2020.
With a well designed game platform, the weekly game grew roots as Fox, Andy, Sobo, Jack, Prep, and Mags became the regulars. Mags then cajoled kid brother Dave (the Knish) into joining in, as he was also dealing with isolation from his regular casino games. So we marched on with this Magnificent Seven for 25 straight weeks, playing and occasionally watching Thursday Night Football (for those who could still multi-task), discussing sports, casinos, food establishments, and movies (so far, mainly Rounders, but some time on The Notebook (why?), High Fidelity, and The Sting.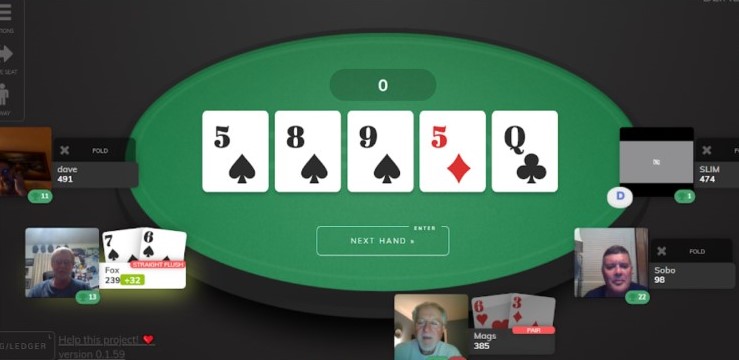 Regular features of the weekly games include "guess the pseudonym" for Andy and Prep, fishing in the river to beat Dave against all odds, and triggering a Jackattack with a better Full House (always a table favorite). We've had a few 4-of-a-kind hands (the most notable being Prep's 4 Kings behind the wheel at the Starbuck's parking lot where he could just barely get internet signal up in north no-man's-land, and one straight flush, held by Fox on the flop (odds of 1 in 100,000) grabbing a monstrous haul of 33 chips (see picture above)!
After the 25 week session, we broke for Thanksgiving and settling up on "chip" accounting.
Season 1 (June-Nov 2020) Results:
| Player | Chips |
| --- | --- |
| Fox | 728 |
| Andy | 584 |
| Dave M | 564 |
| Sobo | -44 |
| Prep | -470 |
| Mags | -611 |
| Jack | -750 |
The seven regulars enthusiastically started Season 2, bringing in Al with his magic dragon software, soon followed by Hans and Al and Andy's pal Billy O. A full table for 10 was set and the game keeps going, followed by the usual trash talk before, during, and after.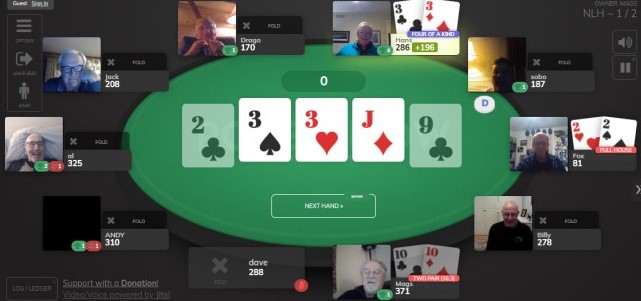 There has been no better cure for COVID-19 blues.
Deal!
Text by Mags